Star Wars: The Force Awakens Banner Gives Best Look Yet At Evil General Hux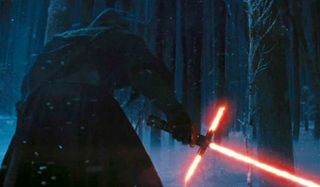 Now that we're now only a few short months away from by far the biggest film of the year, we can expect to see a hoard of new promotional material for Star Wars: The Force Awakens. In fact, it's already upon us, because a brand new banner for the monumentally anticipated sci-fi blockbuster has been released and it's giving us our best look at Domhnall Gleeson's General Hux. Obviously, you want to have a look, which is something you can do now below:
I didn't actually think that it was possible for me to get anymore excited about J.J. Abrams' new installment to the Star Wars canon, but the above image (shared via ComicBookMovie) has amped up my delight quite a few more echelons. Because not only does it give us a clear look at Domhnall Gleeson's chilling glare as General Hux, but it also shows off Adam Driver's Kylo Ren and Gwendoline Christie's Captain Phasma, who appears to carrying a bow-caster weapon that is eerily similar to that of Chewbacca.
Clearly, this trio of villains, as well as their massive posse of underlings that you can see behind them, are going to give Star Wars: The Force Awakens' more heroic figures a run for their money. And while much has been made of Adam Driver's Kylo Ren, especially since he is the proud owner of his very own modified lightsaber, this banner shows us just how Machiavellian and cold Domhnall Gleeson can be with just a pose and a stare. I for one can't wait to see what he brings to The Force Awakens with his villainous ways, and you can expect him to eat up the screen with his antics.
Those of us that have seen Domhnall Gleeson excel in the likes of Frank, Ex-Machina, About Time, and Anna Karenina will already know full well that he has the ability to bring an intensity to his performances, which doesn't negate the vulnerable humanity in his work. However, with The Force Awakens, he should be allowed to go as over-the-top evil as he wants, which should be a joy to behold.
We'll see if he can eclipse the likes of John Boyega, Daisy Ridley, Adam Driver, Oscar Isaac, Andy Serkis, Harrison Ford, Mark Hamill, Carrie Fisher, and Max Von Sydow when Star Wars: The Force Awakens is finally released on December 18.
Your Daily Blend of Entertainment News
Thank you for signing up to CinemaBlend. You will receive a verification email shortly.
There was a problem. Please refresh the page and try again.