J.J. Abrams Wasn't Sure Harrison Ford Could Play Han Solo Anymore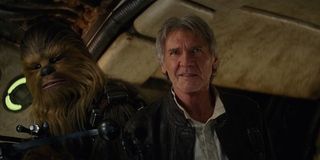 By the time Star Wars: The Force Awakens opens in December, it will have been more than 32 years since we last saw Harrison Ford play Han Solo on a movie screen. That's a long time. When we learned that he and other original cast members were returning to that far, far away galaxy, many fans asked themselves if Ford could still play the beloved scruffy-looking nerf herder. And we weren't the only ones, as director J.J. Abrams had the same concerns.
Talking to the Seattle Times about balancing his fan side and filmmaker side while making a Star Wars movie, as well as keeping the project grounded, Abrams discussed his concerns in this arena. But he also talked about how those fears didn't last long, saying:
At this point, we've seen a grand total of like four seconds worth of grizzled, older, hopefully somewhat wiser (but hopefully not too much wiser) Han Solo footage. But when he and Chewbacca show up at the end of that second The Force Awakens trailer back in April, you could almost hear the collective cheer of Star Wars fans across the world (maybe it was a great disturbance in the Force, but the good kind, if there is such a thing).
It may be a quick moment, it may be one line, but there's just something about the way he carries himself, his presence in that moment; you're not looking at Harrison Ford, you're looking at Han Solo. Even after watching it however many dozens of times I have over the past few months, even before you see him and you just hear his voice, it still gives me a chill. He just embodies that character and his swagger, and from just this single clip, it's easy to see and understand what Abrams is talking about.
Star Wars: The Force Awakens hits theaters on December 18 and experts are already predicting it could be the biggest opening ever. And if you just can't wait for more news, the massive toy unboxing later this week should give us some new information to mull over.
Your Daily Blend of Entertainment News
Thank you for signing up to CinemaBlend. You will receive a verification email shortly.
There was a problem. Please refresh the page and try again.