Star Wars: The Force Awakens Just Revealed Two New Characters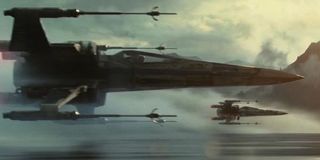 Especially when we're talking about big studio movies with lots of product tie-ins, toys have increasingly become a source of, if not out and out spoilers, new information about films. That's been the case too many times to count lately, and that includes Star Wars: The Force Awakens. A couple of new leaked photos have hit the airwaves showing off a pair of minor new characters.
Just a heads up, potential SPOILERS lurk beyond this point. You've been warned.
Just a few days ahead of the massive, 18-hour unboxing event Lucasfilm has planned for later this week, a reader of Jedi Temple Archives snapped a couple pictures of two new toys at a local Wal-Mart. They show off a couple of alien characters, one named Sarco Plank and one named Asty. There's not a ton of information to glean about the movie from these—which is just fine with me—but they do offer a cool glimpse at the unique collection of background players that director J.J. Abrams and company have put together for The Force Awakens.
We've actually seen a quick glimpse of Sarco Plank before, as he looms in the background of a photo from the Abu Dhabi set of the film (he or she is the one in the middle). From the setting, his garb, and his general appearance, it's obvious that he's a resident of the desert planet Jakku, where Daisy Ridley's Rey lives at the beginning of the story. He could be there on business or something different, but he looks like most of the other denizens. Perhaps he's one of the scavengers or junk merchants we've heard tell of on this new world.
In the photo, he has what appears to be a big-ass hand canon of some sort, and while it takes a bit of a different form, the toy also looks like it comes with the same weapon. Additionally, however, he also has some kind of nasty looking club, perfect for whacking any First Order stormtroopers who may show up on the scene. At least he's prepared for anything.
Though he's also a new addition to the Star Wars universe, it appears that we've also seen Asty, or X-Wing Pilot Asty as the package calls him before, too. A while back, concept art of a character people called "Bullhead" made the rounds, followed ultimately by a leaked photo of the same character, a practically built creature effect, from the set. It looks very much like Asty is in fact Bullhead.
An X-Wing pilot in the Resistance, we've seen this character pop up enough times that you have to wonder if he's going to show up more than once over the course of the new saga. Perhaps he's a member of Poe Dameron's (Oscar Isaac) Black Squadron. If they went through the effort of making an action figure for him, you'd think he has at least some role to play. On the other hand, historically Star Wars has been fond of turning out toys for minor, almost completely superfluous characters, so who knows.
One additional curious footnote about this report is that, while he was unable to get pictures because the store management chased him off, the tipster indicates that there were other figures in the box: a stormtrooper, a snowtrooper, Ezra Bridger, and Kanan Jarrus. If those last two names sound familiar, it's because they're both characters from the animated series Star Wars Rebels, and you have to wonder why they showed up in a box of The Force Awakens toys.
We know that Rebels is official canon, and we've heard rumors that there would be links to The Force Awakens, but given the timelines—Rebels is set before A New Hope, and The Force Awakens is 30 years after Return of the Jedi—they seem unlikely to pop up in the next movie. It's a curious turn of events to be sure.
We'll see how all of this plays out, and how big a role these new characters have, when Star Wars: The Force Awakens opens on December 18.
Your Daily Blend of Entertainment News
Thank you for signing up to CinemaBlend. You will receive a verification email shortly.
There was a problem. Please refresh the page and try again.