Star Wars Is Going To Make A Stupid Amount Of Money From Force Awakens Merch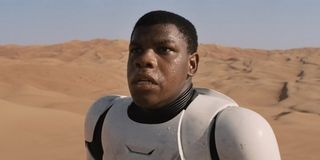 This December, when Star Wars: The Force Awakens finally opens, it's going to make a lot of money—some experts have already predicted an opening of historic proportions. But with a franchise as tie-in savvy as this one has always been, ticket sales are only a single piece of the puzzle, and new estimates foresee sales of merchandise pushing Lucasfilm's profits from ridiculous numbers to truly mind-boggling heights.
According to The Hollywood Reporter, Tim Nollen, an analyst with Macquarie Securities, recently published a report that states, despite a decline in stock prices, Disney will be just fine. In fact, he suspects they will make a ton of money very soon. If Nollen's estimations are correct, products linked to the Star Wars could bring in as much as $5 billion in just the next year.
That's an insane amount of money, but with the slate of goods and merchandise they have in the works, it also seems totally within their reach. Early predictions indicate that The Force Awakens could bring in as much as $615 million worldwide in just its first weekend of release. That would beat the current record holder, Jurassic World, which had the biggest global opening ever earlier this year on the way to earning more than $1.5 billion at the box office.
In addition to the movie, there are a number of comic book titles, published through industry giant Marvel, which are selling like crazy, with more on the way. Over the course of the next few months, a small tidal wave of books are scheduled for release leading up to The Force Awakens. Not to mention Star Wars: Battlefront, the highly anticipated video game, hits stores in November, with an expansion pack specifically linked to the film set to drop a few weeks later. As all of these properties have been dubbed officially part of the Star Wars canon, fans are hungry to see these heretofore hidden corners of that far, far away galaxy illuminated.
And then there are the toys. We've seen glimpses, like that Lego commercial a few days back, or leaked looks at action figures, but later this week the fun really begins as Lucasfilm has a massive, 18-hour, global toy unveiling planned. Starting in Sydney, Australia, and working its way around the planet until it hits Lucasfilm headquarters in San Francisco, the official Star Wars YouTube channel will reveal a ton of the goodies you'll be able to add to your memorabilia collection.
Some at Lucasfilm have come out and cautioned against being too optimistic when predicting how much money Star Wars: The Force Awakens will make when it opens on December 18, but no matter how it goes down, Disney and Lucasfilm are going to do okay.
Your Daily Blend of Entertainment News
Thank you for signing up to CinemaBlend. You will receive a verification email shortly.
There was a problem. Please refresh the page and try again.