New Man From U.N.C.L.E. Trailer Turns Up The Sex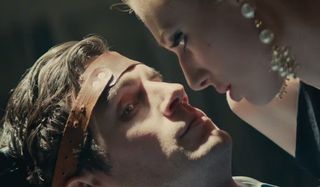 Before he goes off to fight Ben Affleck's Batman, Henry Cavill has to get through Guy Ritchie's adaptation of the much-loved 1960's spy show The Man From U.N.C.L.E. And to amp up anticipation for the flick, Warner Bros. released its latest trailer, which suggests that it's going to be a thrilling, funny, and sexy adventure. You can devour it in all of its glory below.
I'll tell you what: I think I'm going to really like The Man From U.N.C.L.E. It looks cheeky, fun, and downright entertaining, while it's also packed to the brim with a cavalcade of hugely attractive actors and actresses. What's not to love? The one problem I have is that even though it looks as though it will be a jolly jolt of entertainment, I think it will probably also flop.
That's because it's being released in the midst of a cavalcade of other action adventures, which includes Ant-Man, Mission: Impossible – Rogue Nation, and Fantastic Four, while, aside from Man Of Steel, the film's leading actors (Henry Cavill and Armie Hammer) have so far struggled to make their imprint at the box office with their previous work. Hammer's last attempt to lead his own franchise was the hugely enjoyable Lone Ranger, which is believed to have lost Disney quite a chunk of cash when it was released in 2013, while Cavill's only success has come as Superman in Zack Snyder's 2013 reboot. Hopefully the fact that U.N.C.L.E. was made for the relatively low sum of $75 million will mean that it can crawl its way into profit.
Anyway, enough of my cynicism – because even though I might think that The Man From U.N.C.L.E. will fail to generate enough cash to be a success, the latest trailer is simply all kinds of yes. Not only do Henry Cavil and Armie Hammer appear to have developed an intoxicating patter, but Guy Ritchie looks as though he will incorporate the same arresting visual flair he adopted throughout his Sherlock Holmes movies into Man From U.N.C.L.E..
There's also the added bonus that the film's leading ladies, Elizabeth Debicki (The Great Gatsby) and Alicia Vikander (Ex Machina), look both truly stunning and as if they will constantly be a step ahead of their male counterparts. Plus, Hugh Grant is obviously going to excel in his supporting role, and the trailer ended with a stunning rendition of "Feeling Good." What more could you want?
Set in the early 1960s, The Man From U.N.C.L.E. revolves around two agents, Britain's Napoleon Solo, played by Henry Cavill, and Russia's Illya Kuryakin (Armie Hammer), who have to team up to stop a criminal organization that has set their hands on a nuclear bomb. The Man From U.N.C.L.E. will be released on August 14, 2015, and it looks like a whole lot of fun.
Your Daily Blend of Entertainment News