Man Of Steel Comic Con 2012 Live Blog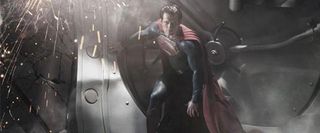 2011 was the year of Green Lantern, 2012 is the year of The Dark Knight Rises, and 2013 will be the year of Man of Steel. Superman has been absent from cinemas since 2006's Superman Returns and fans have been yearning to see the original superhero back on the big screen. Next year director Zack Snyder will be taking us back the city of Metropolis with his newest film and today, at the San Diego Comic Con, we will be seeing at just what that will look like.
Arriving to the stage right now in Hall H are the stars and director of Man of Steel. Keep refreshing this page to get all of the up-to-the-minute updates from the San Diego Convention Center and stay tuned to this post after the panel's end for a full description of all the footage shown!
3:40: Huge Superman logo on the screen! Zack Snyder out on stage!
3:41: Snyder saw this as a way to introduce the character to a new generation. Production has completed so they are just working on post-production. He's trying to create a feel of "What would it be like if you were Superman?" Big blue boy scout is out, beating the shit out of people is in!
3:42: We're about to see the first ever footage from Man of Steel, Let it roll!
3:47: Footage was really dramatic and epic with a really cool growing score and really muted colors and a lot of action, Look out for my full recap later! UPDATE: Here it is, as promised!
3:48: Henry Cavill is on stage!
3:48: Snyder says that comic books are our mythology and that Superman is forever the big grandaddy superhero of all time.
3:49: Fan asks how Zack came to the movie. Chris Nolan called Snyder and asked to have lunch about a potential project and then asked what he thought of Superman,. The idea was presented and Snyder was all over it.
3:51: Question is if this movie is based on a particular comic book arc. Snyder says they have great respect for the canon and the mythology and says that the movie is a collection of that.
3:52 : Cavill's plans to add to the Supes mythos: bring as much of the modern Superman into the world. This movie is both for the fans and showing other audiences what the character can be in the modern world.
3:52: Guy at the mic is actually crying because he's so emotional about the Superman footage. Chris Hardwick actually jumps off stage to give him a hug. He asks simply who the villain is. Snyder responds by asking to show the teaser again. Here it comes!
3:58: It's really chilling footage,. They are also showing off the new poster, which is a basically just Supes standing in shadows. Maybe it will be released soon?
3:59: Cavill says that his goal is to please the fans
4:00: Nolan's Batman vs. Snyder's Supes? Snyder says that he loves Batman, "but really?!"
4:01: Question about the John Williams theme Snyder says that they decided with this film that the previous Superman movies were their own thing, so they approached this one like the previous movies didn't exist. Theme won't come back, but Snyder promises Hans Zimmer has something awesome in store.
4:02: Cavill said that he took all the source material he could get his hands on. He loved both Death of Superman and Return of Superman because they clarified what length the character was willing to go to. Red Son was also an inspiration because the core elements of who he is are the same even if the origin is different.
4:04: Is General Zod going to be more relatable? Snyder responds by saying everyone in the film will have to be relatable.
4:06: A fan comes to the mic to basically just show off his own muscles. Chris Hardwick jokes that the difference between him and Cavill is that all of the girls would sleep with Cavill and not the fan at the mic.
4:07: Will Superman get into a Batman movie or Justice League at some point? Snyder says that Superman is the jewel in the DC crown and they are just making sure to keep the house in order. But after that who knows what's possible.
4:09: Fan asks if we'll see Superman shave with his laser vision. Snyder won't answer it because he says it's a spoiler.
4:10: And that's a wrap for Man of Steel!
NJ native who calls LA home; lives in a Dreamatorium. A decade-plus CinemaBlend veteran; endlessly enthusiastic about the career he's dreamt of since seventh grade.
Your Daily Blend of Entertainment News
Thank you for signing up to CinemaBlend. You will receive a verification email shortly.
There was a problem. Please refresh the page and try again.