Man of Steel Sequel Carrying Reported Budget Of $131 Million?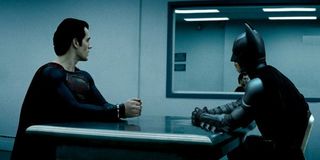 Movie accounting is always more than a little mercurial. If you ask some guys at Warner Bros., they still haven't made any profit off the merchandising behemoth that was 1989's Batman. Never mind today, in a world where international box office is relied upon but obscured by more complex gross share rules, and where the DVD market blossomed, then capsized immediately. It's a very complex thing you're saying when you declare a movie a bomb or a hit. Or even when you say it's expensive.
So it makes perfect sense that a Detroit CBS affiliate would get their wires crossed in discussing a budget for the WB's upcoming Man of Steel sequel, which does not yet have a title but is sure to be something unnecessarily complicated. The claim is that this film, which unites Batman and Superman, and possibly a slew of other DC characters, is budgeted at $131 million. Which, for those of you keeping score, is nearly $100 million less than the reported cost of Man of Steel, allegedly a $225 million movie. The report also claims it's the most expensive film ever made in Michigan, besting the costs of Oz The Great And Powerful. Which, reportedly, cost $215 million. Perhaps there's an extra digit missing somewhere.
Maybe that dollar figure is the initial cost of some of the location shooting, and only some of the effects work, supposedly being done at Michigan Motion Picture Studios in Pontiac but also likely elsewhere given the size of such a project. Maybe it's isolating the separate paychecks of all the actors, like Ben Affleck's $10-$15 million payday and Henry Cavill's $12.50 plus bus fare stipend. Maybe there's a second wave of filming set for an undisclosed location, and the WB is keeping it under wraps from any reporter that might inquire. Or maybe they just got it wrong. Journalism is a fickle beast.
Whatever the case, this is sure to be one of the most expensive films of all-time. How could it not be? It reached that status as soon as Batman entered the picture, given that he's the only superhero in the game coming off back-to-back billion dollar hits (not counting Iron Man, who needed The Avengers to pull that off). You've also got Gal Gadot joining the gang as Wonder Woman, with a host of other superpowered characters jumping into the fray. There's also the matter of all that collateral damage in Zack Snyder's Man of Steel. It's likely all parties involved think that orgy of death and mayhem needs to be "topped." Poor Michigan. You're not gonna make it out of this alive.
The nice takeaway is that the production is expected to bring several jobs to the state, beefing up their economy, with the claim that $5 million alone will go straight to the hotel industry. This movie may be a big budget behemoth, but if one of these superheroes doesn't get a hotel mint on their pillow, there might be some skyscrapers coming down. Superman And The Super-Friends remains on-schedule for a July 17, 2015 release date.
Your Daily Blend of Entertainment News
Your Daily Blend of Entertainment News
Thank you for signing up to CinemaBlend. You will receive a verification email shortly.
There was a problem. Please refresh the page and try again.