Marc Webb Remembers The Amazing Spider-Man Production Designer J. Michael Riva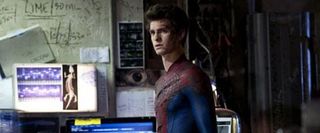 While talking with director Marc Webb at the Amazing Spider-Man junket in New York City, I accidently hit a very soft spot. A Rear Window poster in Peter Parker's room caught my eye, so I asked where the idea to include that came from. Webb responded, "Well, we thought it was about observation because Peter Parker's always taking pictures, but actually, it's sad you bring that up; our production designer just passed away yesterday."
Just earlier today, THR reported that production designer J. Michael Riva died at the age of 63, a week after suffering a stroke. The Oscar-nominee is responsible for the production design on a massive list of films including The Goonies, The Color Purple, A Few Good Men, Congo, Evolution, the Iron Man movies and, of course, The Amazing Spider-Man. The final entry on Riva's resume will be Quentin Tarantino's Django Unchained. Riva suffered that stroke while preparing to go to set.
Of Riva, Tarantino said, "Michael became a dear friend on this picture, as well as a magnificent, talented colleague. Every member of our Django crew family is devastated by this tragic loss as we persevere on his wonderful sets." Webb also released a statement saying, "Michael Riva was a wonderful collaborator, brilliant designer, an emphatic perfectionist - but most of all he was a great friend." He added, "He was a gift from the universe and I will miss him like crazy."
While Webb certainly held it together, enthusiastically elaborating on the process of making The Amazing Spider-Man, the mere mention of the Rear Window poster undoubtedly unleashed a flood of raw emotion. Our deepest condolences to Riva's family, friends and colleagues.
Your Daily Blend of Entertainment News
Staff Writer for CinemaBlend.
Your Daily Blend of Entertainment News
Thank you for signing up to CinemaBlend. You will receive a verification email shortly.
There was a problem. Please refresh the page and try again.