Mark Wahlberg Rides A Flash Gordon Motorcycle In First Look At Ted 2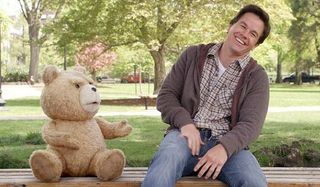 Mark Wahlberg has given fans their first glimpse of his character in Ted 2, and it looks as though he'll have a new set of Flash Gordon inspired wheels for the comedic adventure. The Transformers: Age Of Extinction actor took to his Twitter account to upload an image of himself as he sat atop a motorcycle that was emblazoned with Flash Gordon's logo. You can check out the bodacious picture above:
Is there anything else that we can learn from Wahlberg's picture though?
Well, he seems to be outside a church that is decorated in pink ribbons, which would lead us to believe that a wedding is about to be held inside, and the fact that Mark Wahlberg is wearing a rather spiffing pair of shoes and pants suggests that he will probably play a main part in the service's proceedings too. I'm guessing that the picture was taken before he had a chance to put the rest of his suit on though, and that the Flash Gordon motorcycle is a gift that he has received on his special day from his fuzzy BFF, Ted.
But who else will be standing opposite Wahlberg at the wedding? Amanda Seyfried has already been confirmed as Ted 2's female lead, while her predecessor, Mila Kunis, is also believed to have a small role too. Of course we did already see John and Kunis' Lori marry at the end of the first movie, with Flash Gordon himself, Sam Jones, presiding over the service. But there's every chance that the film could return to their wedding to show that it just didn't work out.
Or, maybe, it will just show Seyfried and Wahlberg exchanging vows instead. Or we could even see Ted marry the love of his life! There are just so many different permutations!
Flash Gordon was name-checked throughout 2012's Ted, with Wahlberg's Bennett declaring that it was his favorite film of all time. Ted even proved that he was quite the pal by luring John to a party where Jones, the titular star of camp '80s epic, was in attendance.
For the uninitiated, Ted revolved around Mark Wahlberg's John Bennett, who -- when he was a child -- made a wish to bring his teddy bear to life. However, over the course of 27 years, Ted (who is voiced by the film's writer and director, Seth MacFarlane) has turned into a foul-mouthed delinquent, who comes in between John and his long-term girlfriend, Lori, played by Mila Kunis.
Ted was roundly praised when it was released, and it clearly struck a chord with the public as it went on to gross just under $550 million. As is Hollywood's want, this success instantly saw rumors of a sequel, and last October it was announced that Ted 2 would be released on June 26, 2015. One can only dream that its constant Flash Gordon references will eventually lead to the superhero film being rebooted. Early suggestion: Zac Efron for Flash. You know it should happen.
Your Daily Blend of Entertainment News