Martin Scorsese Is Doing A Version Of Shakespeare's Macbeth, Expect Awesomeness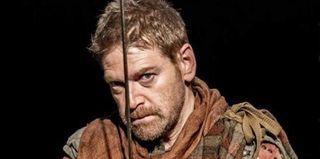 Macbeth is widely considered the darkest of William Shakespeare's plays. Full of corruption, evil, unchecked ambition, and the consequences thereof, the material sounds like a perfect fit for a filmmaker like, oh, I don't know, Martin Scorsese. He apparently agrees, as the Oscar-winning director of Raging Bull, Mean Streets, and Taxi Driver is mounting a film version of Shakespeare's tragedy.
While answering a question on BBC Radio's show Kermode and Mayo's Film Review, Sir Kenneth Branagh stated that he and Scorsese are indeed teaming up for a big screen adaptation of his acclaimed stage production of Macbeth. When he responded to a query from social media, the Thor director said:
This sounds like an ideal match between material and artist to us, and we can't wait to see how this turns out. Macbeth tells the story of a Scottish warrior who, after receiving a prophecy from a trio of witches, goes on to usurp the throne, only to become a tyrannical wreck of paranoia and madness. The arc is similar to any number of Scorsese's rise-and-fall sagas, like Goodfellas, Casino, and The Wolf of Wall Street. He has already told some Shakespearian tales to be sure, so it only makes sense for him to tackle Shakespeare himself, and he picked an appropriate one for his first shot.
Branagh says that Scorsese wants their version of Macbeth to be both "very impressionistic" and "very abstract." What exactly that means remains to be seen, but in the hands of artists of this caliber, it will certainly be an interesting sight to behold. You can probably anticipate a certain level of violence as well.
At one point, Branagh had plans to make a film version of each one of the Bard's 30-plus plays, and while he still has a ways to go, he has a few under his belt, including Hamlet, Henry V, Much Ado About Nothing, As You Like It, and a musical update of Love's Labours Lost. A live version of Branagh's production of Macbeth actually aired in British cinemas in 2013.
Even if this does take place, it appears to be off in the distance. Scorsese is a busy, busy man. The 72-year-old filmmaker is working on an untitled rock and roll series at HBO; he's filming Silence, an historical drama about two Jesuits in 17th century Japan; has a Frank Sinatra biopic, Sinatra, in the works; and is involved in a ton of other projects in various creative capacities. Still, we can't help but echo Branagh's sentiment, "I'm very, very hopeful it's going to happen." Well said, Sir Ken, we couldn't agree more.
Your Daily Blend of Entertainment News