Watch The Avengers Celebrate After Defeating Ultron In Hilarious SNL Skit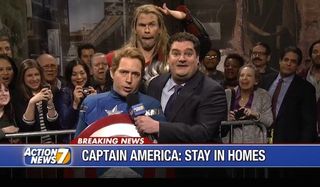 Chris Hemsworth stopped by Saturday Night Live last night to host the late night sketch show for the very first time. Among a handful of funny bits involving the Australian actor was the "Avengers News Report," which saw Thor and his fellow gang of Marvel superheroes celebrating victory in the city streets after defeating the menacing robotic supervillain Ultron. Watch the clip below.
As you can see above, the concept for this skit was great and the execution spot-on. Thor (Hemsworth) was in an unusually upbeat mood. Seemingly drunk, and rallying just about everyone onscreen, he was more like the friend who got far too wasted at the game and, even though it was long over, refused to let the celebration end. Bobby Moynihan was perfect as reporter Danny Powell, playing off of Hemsworth, uncomfortable yet matching his excitement.
Thor, normally very reserved, was entirely goofy in the segment, which made for several good laughs. His victory speech, so to speak, where he explained how Ultron and the robots fought hard was great, as was his followup "I'm Thor!"... followed by just random gibberish. His admittance, like anyone in a state of euphoria after a huge victory, saying "I don't even know what I'm saying right now," was absolutely priceless.
As great as it was watching Thor act like a jackass, the skit's best moments came from the many Avengers cameos. Watching Captain America (Beck Bennett) arrive to "address the viewers" in complete seriousness and then seeing Thor hiding behind him, mocking his fellow Avenger's stone-faced, humorless demeanor with repeated saluting and hand gesturing was amazingly funny.
The highlight cameo, however, absolutely came from Iron Man (as if it could be anyone else, right?!). Taran Killam embodying Robert Downey Jr. as Tony Stark... what could top that? Killam nailed it, marching on-camera and grabbing the mic, with his classic cocky and arrogant playboy charm, only to crack jokes. Making subtle derogatory comments, always with a smile and while never not entertaining. Classic. His topping things off by doing the Gatorade dump on S.H.I.E.L.D director Nick Fury was the icing on the cake.
Thor's laid back, loosened up persona in the above SNL skit certainly falls in line with what we've been hearing about his character in recent months. As a result of his being on earth as opposed to Asgard he has sort of shed some of his uptight, kingly ways and as a result Hemsworth is expected to bring a bit more of a relaxed, humorous approach to his character in the upcoming film The Avengers: Age of Ultron, which hits theaters May 1, 2015.
Your Daily Blend of Entertainment News