Marvel's Inhumans Might Be Cancelled, Get The Details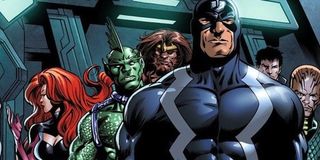 Up to this point, the Inhumans have been all over recent events in Marvel's episodic TV series Agents of S.H.I.E.L.D., but thus far, they've been noticeably absent from the cinematic side of things. They were scheduled to get their own big screen adventure in 2019, but according to some news coming out of New York Comic Con, that may no longer be the case.
Just the other day, we heard that Marvel was doing some rearranging of titles in their upcoming Phase 3 of movies, adding Ant-Man and the Wasp to the mix, and scheduling three as-yet untitled films. For the time being, the status of the Inhumans remained unchanged. However, according to one of Bleeding Cool's industry sources, more news is on the way, and part of that is that Inhumans is going to be removed from the release schedule.
That's a big move, and while Marvel has added movies to their slate in the past, most notably an upcoming Spider-Man solo joint, and delayed others, they haven't out and out dropped anything yet. Granted, this is all unconfirmed rumor at this point, but it would have huge ramifications.
Should this turn out to be true, which is admittedly a pretty sizeable if at this point, it will be interesting to see what this means. The Inhumans obviously form a big part of what the TV side of Marvel is doing, and that looks to continue moving forward. Many presumed that outlet would be used to increase public awareness of them and provide years of hype moving into the movie.
You have to wonder if this is indicative of a clash between the movie and TV sides of the Marvel world. Recently, Marvel Studios pulled away from Marvel CEO Isaac Perlmutter, and now President Kevin Feige reports directly to Disney, Marvel's parent company. However, the Marvel TV still falls under Perlmutter's purview, and it's hard not to look at cancelling Inhumans, a property with way more ties to the TV realm than any of the other features, as anything but a big slap in the face.
That's just speculation at this point, but it's a thought that has occurred to a great many people already. It's entirely possible that the movies could still make use of the Inhumans in their upcoming storylines, but decided to spend their resources as far as a full movie is concerned elsewhere.
With their alien ties, many fans that they would figure into the deep space side of things going forward, but we'll have to wait and see how all of this shakes out. Overall, Inhumans always seemed to be the film that had the biggest questions around how it fits in with the rest of the MCU, but if this is true, we may never know.
Your Daily Blend of Entertainment News
Thank you for signing up to CinemaBlend. You will receive a verification email shortly.
There was a problem. Please refresh the page and try again.