8 Characters Who Need To Be In Marvel's Inhumans, And Who Should Play Them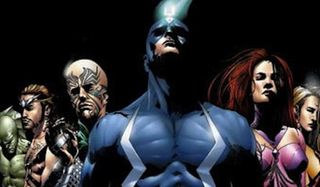 When Inhumans is released in 2018 during Marvel's Phase 3, audiences will be exposed to a new side of the Marvel Cinematic Universe. Currently, powers in this universe can be attributed to science or cosmic phenomena, but thanks to the Inhumans, Marvel has a way to introduce genetic abilities. Most of these individuals can be found in the hidden city of Attilan, where their society has flourished for thousands of years in seclusion from the rest of the world. Inhumans may take place on Earth, but because of their history and technological advancements, we'll likely be watching a story just as alien to the goings-on of the MCU as Guardians of the Galaxy.
While the term "Inhumans" refers to all the descendants of people who were experimented on by the Kree thousands of years ago in the Marvel universe, the movie's main characters will likely be the Inhuman royal family. The following is a list of each character that needs to be included, as well as who is best suited to play them. If Marvel does everything right, Inhumans could be their best ensemble film yet.
Black Bolt
Who Is He?: Black Bolt is the ruler of the Inhumans. While his physical abilities already surpass most of his people, his main power is producing a particle from the speech center of his brain that can interact with electrons. This gives him his hypersonic voice, which is capable of unleashing massive destruction. A whisper can rock a building while a shout is capable of destroying a planet. As a result, he has undergone training to make sure he never speaks, whether conscious or asleep. Thanks to the metallic antennae he wears, Black Bolt is able to channel his powers in less destructive ways, like boosting his strength or manipulating energy.
Who Should Play Him: Marvel needs to get Vin Diesel on the phone and secure him for this role. Not only does he resemble Black Bolt, but it ironically parallels his role as Groot. In Guardians of the Galaxy, you hear Diesel's voice but never see him, whereas in Inhumans, you'll see him but he'll never speak (aside from perhaps saying one destructive word). It's too good of an opportunity for Marvel to pass up on!
Medusa
Who Is She?: As queen of the Inhumans, Medusa's primary role is serving as interpreter for her husband Black Bolt – as she is able to understand and read his body language and mannerisms extremely well. However, she's proven on multiple occasions that she's an effective leader on her own. Medusa is able to control every strand of her prehensile hair, which is capable of lifting several tons, performing delicate procedures, and can even be fashioned into sharp, spear-like points. With her hair approximately six feet long, this makes her a dangerous adversary from both far away and in close quarters.
Who Should Play Her: Dina Meyer's last attempt at a comic book property (playing Barbara Gordon in Birds of Prey) didn't go well, but she deserves another shot at being a superhero. She's capable of exuding a thoughtful demeanor that comes with being royalty, but as she demonstrated in the Saw movies as Detective Allison Kerry, she can also spring into action and deliver the intensity. She's the perfect mix of queen and warrior.
Crystal
Who Is She?: Crystal is Medusa's younger sister. She is capable of manipulating earth, air, water and fire, i.e. the "classic elements." In the comics, she has also been a member of the Fantastic Four and Avengers, and has been married to Quicksilver. Since Marvel will be introducing the speedster next year, it's possible these two kids may eventually meet in the movies as well - especially if the theory that he and his sister, Scarlet Witch, are Inhumans is true.
Who Should Play Her: Well-known from movies like Wedding Crashers and The Great Gatsby, Isla Fisher is a versatile actress that would make a great Crystal. Not only does she resemble Meyer well enough, she'll also be able to effectively portray Crystal's gentleness and caring nature. Plus, she has plenty of experience with comedies, so if the film the film is looking to incorporate a fair amount of humor, she can be the one that delivers most of the light-hearted moments.
Karnak
Who Is He?: Like almost all Inhumans, Karnak's physiology is superior to that of regular humans, but since he was never exposed to the Terrigen Mist, he never gained any superpowers. Instead, he has his very own unique ability garnered through extensive training: he is able to sense the weak point of anything, whether it's a person, object or even a plan. As a master martial artist with a toughened exterior, this makes him an especially dangerous foe to anyone, even if they have superpowers.
Who Should Play Him: Action star Jason Statham has brought the pain repeatedly in projects like The Transporter series and the Fast & Furious movies. Not only does he look almost like Karnak (he just needs to grow some facial hair), but Statham has enough experience with physical roles that he'll be able to show off Karnak's martial arts abilities perfectly when 2018 rolls around. He's already proven he's good at being the anti-hero, so let's elevate him to full-blown hero.
Gorgon
Who Is He?: Gorgon serves as bodyguard to his cousin Black Bolt, and interlopers need to watch their step around him. Because his legs were mutated when exposed to the Terrigen Mist, he is able to generate shockwaves and earthquakes with the stomp of his foot. His body is also much more resistant than the average Inhuman, and blunt force that would kill a normal person hardly affects him.
Who Should Play Him: He menaced Obi-Wan Kenobi as Jango Fett in Star Wars Episode II, he passed on the Green Lantern legacy to Hal Jordan as Abin Sur in Green Lantern, and it's about time that Marvel casts Temuera Morrison for one of their movies. He's one of those actors who gives great performances in action and sci-fi movies, but is continually underutilized. Let him unleash his ferocity as Gorgon in Inhumans. Watching him stomp his foot down is sure to leave the audience in awe.
Triton
Who Is He?: Triton is the brother of Karnak. Exposed to the Terrigen Mist when he was a year old, his skin turned green, and while he was able to breathe underwater, the downside was that he couldn't breathe normal air. He was originally confined to a specially-made area for him in Attilan, but eventually a breathing apparatus was designed that allows him to survive on the surface. Triton's aquatic physiology also allows him to swim at significant speeds and resist the pressures of the ocean.
Who Should Play Him: While he is a multi-ranged actor, in recent years David Oyelowo has shined as the villain in projects like Rise of the Planet of the Apes and Star Wars: Rebels. Let's offset that negative energy by giving him a heroic role to play with. Plus, with the rights to Namor the Sub-Mariner still in flux, Oyelowo would have the unique opportunity to play the Marvel Cinematic Universe's first aquatic superhero. It's quite the achievement, and since the movie will likely give him a few underwater action scenes, Oyelowo would be able to shine on his own while the rest of his cast is dealing with dangers on the surface.
Maximus The Mad
Who Is He?: Every member of the royal family mentioned so far is an ally to one another, but not this guy. Black Bolt's brother Maximus The Mad is well-deserving of his nickname. Already intelligent and having a knack for inventing, the Terrigen Mist gave him the ability to manipulate minds for a short period of time. Due to his insanity, though, he's never explored the full potential of his powers. Over the years he has staged multiple coups against his brother, and while he did succeed several times in taking the throne, eventually he was defeated and imprisoned. Chances are good that he'll be the main antagonist for the 2018 movie.
Who Should Play Him: Adrien Brody has built a career off playing unique and eccentric characters. Who better to portray Black Bolt's insane, power hungry brother? He can definitely pull of the insanity of Maximus, and appearance-wise he's a great contrast to Vin Diesel. Also, Maximus has the potential to be a recurring villain in the MCU, which is something that doesn't pop up often considering how often bad guys die in this universe. It goes without saying, but Marvel would be wise to lock Brody into a multi-film contract so that he can return to the role similar to way Tom Hiddleston has reprised Loki.
Lockjaw
Who Is He?: Resembling a giant bulldog, Lockjaw giant stature already shows off his power. As the name suggests, he has a jaw so strong that one time he clamped onto The Thing's arm, and the Fantastic Four member couldn't unhinge it. However, Lockjaw's main ability is being able to teleport anywhere. Because of this, he serves as the royal family's main form of transportation on Earth, and he can even travel to space
Who Should Play Him: Lockjaw will be have to be a CGI creation, but to do his grunts and barking, Marvel needs to hire the most experienced voice actor in the business: Frank Welker. Not only has he been providing voices since 1969 in a variety of movies and TV shows, but he voiced Scooby-Doo in the live-action movies. If that doesn't qualify him to voice this CGI dog, I don't know what does.
Your Daily Blend of Entertainment News
Connoisseur of Marvel, DC, Star Wars, John Wick, MonsterVerse and Doctor Who lore. He's aware he looks like Harry Potter and Clark Kent.
Your Daily Blend of Entertainment News
Thank you for signing up to CinemaBlend. You will receive a verification email shortly.
There was a problem. Please refresh the page and try again.