Marvel Wants Adam McKay To Direct An Upcoming Superhero Movie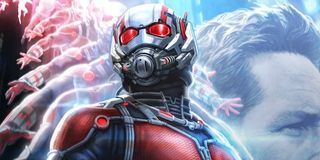 Adam McKay has confirmed he has held talks with Marvel about directing a future instalment to their cinematic universe. McKay refused to reveal the specific films that they discussed, but it certainly looks as though his relationship with the studio will grow beyond his participation with Ant-Man.
During a chat with Crave Online, McKay was asked whether he had "a shot at directing one of their big characters." After admitting that he had a "great time" working on his "big rewrite on Ant-Man," he then added that he is currently "kicking around ideas" with Marvel. He then went on to tease:
Currently, I'm finding it quite hard to get excited about Adam McKay's involvement with Marvel. That's not to say that he won't be able to sway my decision. If his script for Ant-Man sparkles with his usual wit, but without the abundance of silliness, and also brings in the action-blockbuster tendencies that are needed to entertain the mainstream masses, then I will feel he is worthy of a directorial role with the studio. At this point, though, he hasn't really done anything to suggest that he deserves a Marvel film to direct.
Don't get me wrong, I absolutely adore Anchorman, Talladega Nights: The Ballad Of Ricky Bobby, Step Brothers, The Other Guys, and Anchorman 2: The Legend Continues. In fact, Adam McKay is the most prolific director currently working in the comedy genre. But these films are completely different beasts to what Marvel usually delivers. In fact the one director from the comedy genre that I believe really could have excelled working with Marvel is a certain Edgar Wright. Unfortunately, it didn't turn out that well when Wright was actually hired by the beloved studio for Ant-Man. But this nifty little video pretty much proves why he was perfect for them:
Clearly Edgar Wright's vision for Ant-Man didn't fall in line with what Marvel planned for the character. And the fact that they ended up hiring Adam McKay and Peyton Reed, who both aren't regarded as visually arresting filmmakers, suggests that the studio would rather take a safe route for Scott Lang's origin story than try and rock the boat with a more edgy and alternative entity.
Of course, it's still way too early to be certain that the film will end up like this. I'm just basing my thoughts on Edgar Wright's films when compared to Peyton Reed and Adam McKay's. Maybe the latter duo will deliver a rousing and captivating addition to Marvel's Cinematic Universe that perfectly combines their cinematic voices with the comic-book studio's previous blockbuster antics. If they do, I'll be excited for Adam McKay's first foray behind the camera for Marvel. Until then though I'll still be skeptical.
Your Daily Blend of Entertainment News
Your Daily Blend of Entertainment News
Thank you for signing up to CinemaBlend. You will receive a verification email shortly.
There was a problem. Please refresh the page and try again.