Matt Damon And Ben Affleck Teaming For Whitey Bulger Flick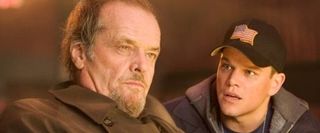 It was big news this past June when James "Whitey" Bulger, one of the FBI's 10 Most Wanted, was finally captured after 16 years as a fugitive. Having been both the godfather of the Irish mob in Boston and a longtime FBI informant, the gangster's life is rife with cinematic potential, and in fact Jack Nicholson's character in The Departed (pictured above) was based on Bulger. Now that he's in custody and his story has an appropriately Hollywood ending, several people have been lining up to bring his story to screen, including The Departed's producer Graham King and Twilight actor Peter Facinelli. The competition became a little more fierce today, however, because Matt Damon has told GQ that he and Ben Affleck will be making a Bulger movie of their own.
While the project is still in the early days, Damon says that he will take the lead as Bulger and Affleck will direct, from a script by Terence Winter. The subject material should come naturally to Winter, as his resume includes both The Sopranos and Boardwalk Empire. Damon and company haven't decided yet whether the movie will span Bulger's entire career or just focus on a specific portion. He told GQ that, "If it's a straight biopic, we'll do it over a period of time. But it's always a question of what part of the story do you tell, and biopics are always a little cumbersome."
When the Bulger project might hit screens is anybody's guess, because both Affleck and Damon are keeping busy these days. Last week it was announced that Damon would be making his directorial debut on a drama he co-wrote with The Office's John Krasinski. As for Affleck? He's helming a little adaptation called The Stand.
Your Daily Blend of Entertainment News
Thank you for signing up to CinemaBlend. You will receive a verification email shortly.
There was a problem. Please refresh the page and try again.