Matt Dillon Is Just The Latest Person To Sue For Crash Profits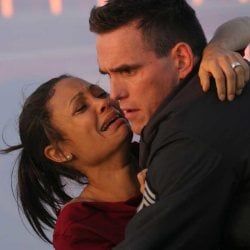 Many of us may prefer pretending that 2005's Crash never existed, but for the people who made the movie and can't stop suing each other over its unexpected profits, it's the gift that keeps on giving. The producers of the film have already sued each other repeatedly, and in 2007 director Paul Haggis teamed up with co-writer Bobby Moresco and star Brendan Fraser to sue for their own profits, and now Matt Dillon has decided to get in on the windfall as well.
According to THR, Dillon claims that he's been cheated out of at least $100,000 in profits by Bob Yari, the producer who originally sued for the rights to accept the film's Best Picture Oscar at the 2006 Academy Awards ceremony (he lost). Dillon's company performed an audit in 2006 that allegedly identified the swindling, but Yari then "deliberately authorized [the production entity] to apply an incorrect formula for the calculation of [Dillon's] contingent compensation." It's unclear to me why Dillon gets a cut of the profits, an unusual movie for an actor in an ensemble film, but since Crash started off as a tiny indie it's entirely possible he put up some money to get it made in the very beginning.
Honestly it's not all that interesting when various Hollywood people sue each other for profits, but it is a little bizarre that they're still arguing over Crash, even after those of us who resent it for winning Best Picture are now content to pretend it doesn't exist. Given that the suit from Haggis, Moresco and Fraser is still ongoing, there's also no telling when Dillon's will be resolved. We'll keep you posted, but we might have just stuck our heads back in the sand by then.
Your Daily Blend of Entertainment News
Staff Writer at CinemaBlend