The Maze Runner 3 Already Planning A Significant Leap For Its Story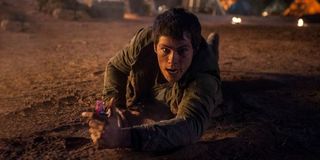 We're still a few weeks away from Maze Runner: The Scorch Trials being released, but we've already been handed a rather important development regarding its own follow-up. Rather than picking up immediately after the sequel to The Maze Runner, it's going to be set a whole year after.
Director Wes Ball made this admission to Collider, explaining that Maze Runner: The Death Cure will not just miss out a year of action, but that it's also going to allow for quite a few important things to have happened off screen too. Ball declared:
The first 30 minutes of Maze Runner: The Scorch Trials were aired at San Diego Comic-Con and proved that the film immediately picks up from where its 2014 predecessor left off. For those of you who don't know, this saw Thomas (Dylan O'Brien) leading the fellow surviving Gladers out from the Maze and onto a helicopter. From there, the film then sees them sent into a heavily guarded facility.
The final instalment to James Dashner's series of young adult novels, The Death Cure also flows directly into the third book, so this is quite a departure. However, it shows great courage and understanding from director Wes Ball and the creative team with the franchise to decide against following that path.
Meanwhile, devout readers of Dashner's Maze Runner series will be pleased to hear that Scorch Trials has already incorporated several elements from the third book into its cinematic incarnation. This pretty much means that everything is up for grabs, and it could see the new movie deviate drastically from its source material. Which is certainly a possibility if they're looking for a reason to include the one-year gap.
The Maze Runner has proven to be quite a nifty fall money-turner for 20th Century Fox. Released just after the splurge of Hollywood summer blockbusters, last year's adaptation of James Dashner's 2009 novel went on to gross $344.3 million from just a $34 million budget, which immediately gave the studio the confidence to order the sequel.
This next chapter sees Thomas and his posse of Gladers looking for clues about the powerful and mysterious organization, WCKD. This leads them to an area known as Scorch, where they'll face another cavalcade of obstacles, just like they did in the original film.
Confidence in the franchise is clearly pretty high, because Fox has already greenlit the third instalment, The Death Cure, which will shoot in February 2016, and then be released on February 17, 2017. Meanwhile The Maze Runner: Scorch Trials hits theaters on September 18, 2015.
Your Daily Blend of Entertainment News
Thank you for signing up to CinemaBlend. You will receive a verification email shortly.
There was a problem. Please refresh the page and try again.