The Maze Runner Scribe Recruited To Write Allegiant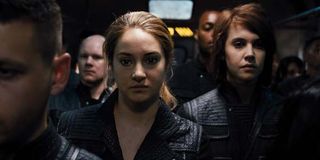 The Divergent series is moving forward with full force, Insurgent already well on its ways from Lionsgate. While that shoots, they're preparing the next two films entitled Allegiant, slated for March releases in 2016 and 2017. And now they have the person who is ready to take them on that journey with the mightiest of weapons: the pen!
Noah Oppenheim has been tipped to adapt Veronica Roth's Allegiant, according to THR. Oppenheim is a television producer-turned screenwriter and, curiously, his only other credit as a writer is as co-writer on The Maze Runner , another prospective YA adaptation. That Fox blockbuster, also about a dystopian future world where teens are forced to fight to save a decayed world, hits theaters this September.
Insurgent is currently shooting in Atlanta. The last time we saw our intrepid heroes Tris and Four, they had fought to end the reign of tyranny over the colonies. Robert Schwentke will direct the sequel, which features cast newcomers Naomi Watts and Octavia Spencer, and will follow Tris as she leads a group into Amity in the wake of the major losses during Divergent. Recognizing the need for a strong vision behind the scenes, they brought on Oscar-winner Akiva Goldsman to punch up the script by Jane Got A Gun scribe Brian Duffield. Guess they didn't see Winter's Tale.
Oppenheim is only scheduled to write Allegiant Part I which means another writer will be jumping onto the fourth film. Allegedly, that is: Lionsgate are moving ahead with these movies even though the first one didn't exactly light the world on fire. Divergent cost $85 million , which is more than similar YA adaptations Twilight and The Hunger Games. While the $150 million domestic gross was decent, Lionsgate expected a bit more than the $118 million that came from overseas and the $269 million overall total. What happens if Insurgent capsizes, or does marginally weaker numbers than its predecessor? This isn't an ongoing franchise like Spider-Man, this is one cohesive story. You can't just recast Shailene Woodley or take six years off before rebooting. The YA model that's been adapted since the Harry Potter series is that fans expect a new installment every year. You can break out and improve upon grosses if fan demand is there, but Divergent never seemed to be a pop culture talking point, particularly compared to Woodley's lower-grossing but buzzier The Fault In Our Stars. If Allegiant can't top its predecessor, will Oppenheim find hiself writing a movie that ends up never getting made?
Your Daily Blend of Entertainment News
Thank you for signing up to CinemaBlend. You will receive a verification email shortly.
There was a problem. Please refresh the page and try again.