Meet The Man Who Opened A Mad Max 2 Museum In Australia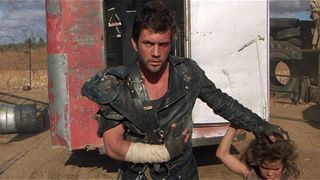 There are no shortage of reasons to take a trip to Australia. From swimming in the crystal clear waters near the Great Barrier Reef to cuddling up with kangaroos and koalas, the country is a tourist's dream destination. If that all sounds a little too pedestrian for you, then perhaps a vacation built around exploring the Mad Max 2 Museum is more your speed.
Adrian Bennett is one of the many fans of the 1981 cult classic, but he wasn't content to just talk about his love for The Road Warrior on Internet message boards and Facebook. No, Bennett took things to another level – and moved his family from England to the Outback so he could open the world's first, and only, repository for The Road Warrior memorabilia.
Vice recently caught up with the museum's curator and owner, who gave the site a tour of his monument to all things Mad Max 2, and I have to say that if I ever venture down under, this museum will be a top destination for me.
Perhaps the most pressing question that comes to mind when discussing a Mad Max 2 museum is this one: Why? Bennett has a good answer.
Bennett goes on to talk about the detailed backstory of how he finally convinced his wife that moving to the small mining town of Silverton to open a museum, and reveals how a lot of the memorabilia he's collected was donated or loaned by locals involved with the feature's production.
The memorabilia is definitely the highlight of the museum, and Bennett has two pieces he's particularly proud of. The first is the Feral Kid's boomerang, which figures into one of The Road Warrior's more entertaining sequences, and the other is the same character's music box. Both are great finds worthy of building a collection around.
Bennett hopes more visitors will be drawn to the museum with the 2015's release of Mad Max: Fury Road – a new entry in the series where Tom Hardy will be taking over as Max. In the meantime, drive on over to Vice for some really cool photos of Bennett's labor of love.
Your Daily Blend of Entertainment News
Thank you for signing up to CinemaBlend. You will receive a verification email shortly.
There was a problem. Please refresh the page and try again.