Meg Foster Will Lead A Coven In Rob Zombie's The Lords Of Salem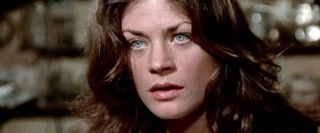 Rob Zombie has never been the most traditional guy, even given the offbeat circles in which he runs. He spent most of his career as a goth metal icon before deciding in 2003 to try his hand at filmmaking. After his first two films, House of 1,000 Corpses and The Devil's Rejects, were released, Rob was charged with remaking a true horror classic: Halloween. His interpretation was...unique, and once again emphasized his nontraditional methods. This tendency toward the unconventional continues with an unusual casting announcement for his latest film.
Almost a year to the day since Zombie's latest project The Lords of Salem was unveiled, it was announced via Facebook that Meg Foster had been cast in the film. A pretty badass photo of Foster accompanied the post. Zombie is by no means the first director to embrace social media, but the fact that he would break news like this via the film's Facebook profile as opposed to, say, Variety or The Hollywood Reporter would suggest that Rob may actually prefer social networking to traditional media. You can check out that image below.
To be honest, Zombie has never been my favorite filmmaker, but this sounds like a damn good project for him. A film about modern-day Salem plagued by a coven of witches, in effect the ghosts of its own past, offers the potential for a grimy, gothic nightmare that would perfectly suit Zombie's tastes. Furthermore, Meg Foster is a fantastic casting decision. She will play the leader of the witch coven who menaces the town. Foster is a mainstay of cult films such as Masters of the Universe, They Live, and Blind Fury. She also has the most striking eyes in cinema history so she should have no problem entrancing the townsfolk of Salem. This sepia tone photo unfortunately does these eyes little justice.
Still no word on when The Lords of Salem will begin shooting, but with the news of Meg Foster being cast, it seems the wheels are finally in motion.
Your Daily Blend of Entertainment News
Thank you for signing up to CinemaBlend. You will receive a verification email shortly.
There was a problem. Please refresh the page and try again.