Mia Wasikowska Joins Jesse Eisenberg For Richard Ayoade's The Double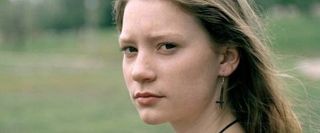 We told you way back in August that Jesse Eisenberg was planning to team up with Submarine director Richard Ayoade for The Double, an adaptation of the Fyodor Dostoevsky novella about a man whose life is being taken over by his doppelganger. If you got worried because there wasn't any more word on the project while Ayoade filmed the comedy Neighborhood Watch, never fear: THR reports that production on The Double is set to start in the UK this spring, and not only is Jesse Eisenberg still involved, but Mia Wasikowska has signed on as well.
THR describes the film as "funny, frightening and dream-like," so while it might not be as sober and grim as you might expect from Dostoevsky, Ayoade also says it will "reflect on loneliness and our need to love and be loved." It's hard to imagine Ayoade making anything resembling a typical drama, given the visual flair and humor he showed in his directorial debut Submarine, which was a festival favorite and marked him as a director to watch. And it's especially exciting to see him teaming up with Eisenberg and Wasikowska, both exciting young actors who seem to have a knack for picking directors worth working with-- whether it's Eisenberg teaming up with David Fincher for his Oscar-nominated role in The Social Network or Wasikowska working with Gus van Sant, Cary Fukunaga, Park Chan-Wook and John Hillcoat all within the last few years, neither actor seems interested in wasting their time with directors who don't know what they're doing. Even with just one feature behind him, Ayoade already seems to belong in that elite class.
Staff Writer at CinemaBlend
Your Daily Blend of Entertainment News
Thank you for signing up to CinemaBlend. You will receive a verification email shortly.
There was a problem. Please refresh the page and try again.