Michael Bay Won't Direct Transformers 5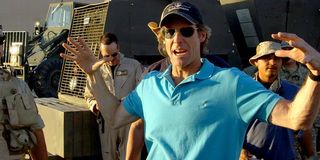 There is a cinematic King Midas, and his name is Michael Bay. He rules all that he surveys, even if critics and more sarcastic moviegoers mock the same excess that he himself celebrates. He's bulletproof in every way, and after collecting a cool billion dollars on Transformers: Age Of Extinction, he just might be ready to call the robots quits.
In a story at USA Today (opens in new tab), Bay admitted that this might be it for him and the Transformers, as he's ready to pass the baton to a new director (their words, not his) and move on to bigger and better things.
Bay has been away in Cybertron for years now: he's cranked out four Transformers movies in seven years, and his only break was helming the very un-Transformers comedy Pain And Gain. The last two big robot movies grossed less than the second picture domestically (the new one is set to be the lowest grossing film in the series stateside) but they both rounded a billion dollars globally.
Of course, if his success wasn't enough with Transformers, he also runs Platinum Dunes. This summer, the studio found hits in the new Teenage Mutant Ninja Turtles and The Purge: Anarchy ($95 million worldwide). He's also got two TV sensations in Black Sails on Starz and The Last Ship on TNT. But it sounds like he's going to take it slow for awhile – USA Today claims his next project will be a documentary on elephant poaching. Of course, Bay will continue producing movies, as Platinum Dunes will soon be releasing Ouija and Project Almanac, the latter which cannily sneaked it's own billboard into this weekend's Teenage Mutant Ninja Turtles.
So, who's going to take on the mantle of the Transformers? That fourth film took the series in some very strange directions, ending on a pretty cosmic note. Do we follow more Transformers on Earth, or do we join Optimus Prime as we take to the skies?
Moreover, Bay's style is VERY specific, as is the universe he's established for these characters. Is the next director of Transformers 5 going to bring an entirely new vision to the film, or will they look to find someone that can replicate what Bay does? Because if it's the latter, well, no one can really replicate what Bay does – particularly with his insanely busy shooting schedules and penchant for coming in under budget. Bay's the wealthiest director in Hollywood for a reason beyond "his movies make money." At this point, it might be difficult to find someone else willing to jump onto this carousel, particularly if they want something out by 2016.
Your Daily Blend of Entertainment News
Thank you for signing up to CinemaBlend. You will receive a verification email shortly.
There was a problem. Please refresh the page and try again.