Michael Fassbender's Assassin's Creed Adaptation Finds Funding And Distribution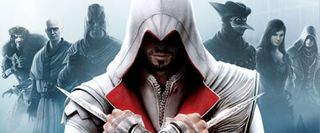 With ever-expanding worlds and incredible action sequences, video games have become a reliable inspiration for movie adaptations, no matter how often the results are decried to be terrible. However, there seems to be plenty of promise attached to the in-development adaptation of Ubisoft's Assassin's Creed. For one, there's an intriguing premise: Desmond Miles, a modern-day bartender who comes from a long line of assassins, is forced into a genetically focused time machine that throws him into the life, times and bodies of his deadly ancestors. Secondly, Ubisoft broke away from a deal with Sony to produce the feature independently and on their own terms, and lastly, they secured Michael Fassbender to star. Sold? So are its newly found investors.
Deadline reports that New Regency, which is producing Steve McQueen's third Fassbender vehicle Twelve Years a Slave and Darren Aronofsky's biblical drama Noah, has committed to finance and distribute the Assassin's Creed movie. The deal declares that Ubisoft will have powerful creative input as the adaptation moves into the scripting stage. Considering the Assassin's Creed games have already sold more than 37 million units, this seems a wise concession on New Regency's part. Not only did it help secure them the movie, which clearly has a huge market, but also it will give the production company an incredible resource on the game's rich story arcs, history, and designs. To get a sense of Assassin's Creed, check out a game trailer below:
Wisely, Ubisoft is taking a page from Marvel's playbook. Following on the disappointing box office and critical panning of the adaptation of Ubisoft's Prince of Persia , Ubisoft Motion Pictures was launched in spring of 2011 to help the video game company best execute movie versions of their games. Along with Assassin's Creed, this newly formed branch is developing films based on espionage-themed games Splinter Cell and Ghost Recon as well.
Staff writer at CinemaBlend.
Your Daily Blend of Entertainment News
Thank you for signing up to CinemaBlend. You will receive a verification email shortly.
There was a problem. Please refresh the page and try again.