Michael Fassbender Looks Perfect In First Look At Assassin's Creed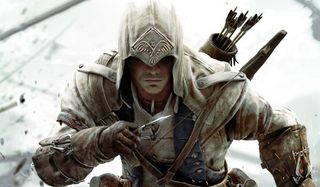 Michael Fassbender was announced in the lead for the Assassin's Creed movie about three years ago, but now we finally have our first look at him in the video game adaptation. See him as the brand-new character, Callum Lynch, below.
Yahoo Movies debuted the first look as Fassbender in Assassin's Creed, and the character of Callum was created specifically for the film. According to the site, the story won't be retelling any of the video game characters' story arcs, but will rather introduce new characters to this world. Still, Callum's look retains an uncanny resemblance to Desmond Miles, the main character of the games. So, when Fassbender was telling all of us to not believe the rumors that he was really playing Miles, we should have listened.
In addition to the first look image, 20th Century Fox released a new plot description for the film. Callum is able to experience the adventures of his ancestor, Aguilar, in 15th century Spain through the use of "revolutionary technology that unlocks his genetic memories." The games refer to this as the "Animus." It's through these memories that he discovers he is a descendant of a secret society called the Assassins, whose rivals are the Knights Templar. In the games, the Templars are trying to find the location of several mystical artifacts called "Pieces of Eden" whose power will help the organization control mankind and alter fate. It's unclear whether this same mission will be utilized, but the description from Fox states that Callum will amass incredible knowledge and skills in order to take on the Templars in the present day.
Most other details on the project are still under wraps, and the cast members haven't been talking much during interviews. The most Michael Fassbender would reveal recently was during an IGN interview, in which he said the cast and crew wanted to honor the "rich" world of the video game franchise. He also said that they were spoiled in terms of the amount of material available to them, but that they want to bring "new elements to it and perhaps our own version of things that already exist in the game."
Filming hasn't even begun yet on Assassin's Creed, which is set to begin production this Monday and will film in Malta, London and Spain. Justin Kurzel, the man who also directed Fassbender in Macbeth (which looks bloody brilliant, by the way), is helming this film from a script by Bill Collage, Adam Cooper and Michael Lesslie. Another Macbeth-ian, Marion Cotillard (who plays Lady Macbeth in Kurzel's film), is joining Fassbender in Assassin's Creed. Michael K. Williams of Boardwalk Empire and Ariane Labed of Before Midnight (who's replacing Alicia Vikander) will also feature.
Assassin's Creed is set to hit theaters starting on December 21, 2016.
Your Daily Blend of Entertainment News