Assassin's Creed Has Found Its Alicia Vikander Replacement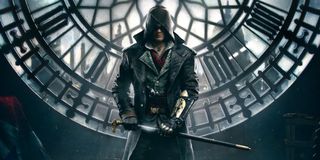 Alicia Vikander of Ex Machina and Seventh Son was circling a role in the Assassin's Creed movie, but ultimately dropped out due to scheduling conflicts. (You can blame Bourne for that one.) But now a new actress as stepped in to fill the vacant seat and that's the Greek-born French starlet Ariane Labed.
Deadline was first to report the news of Labed's involvement, and she'll be joining the already cast Macbeth buddies Michael Fassbender and Marion Cotillard in Assassin's Creed. As the trade notes, this is the most high-profile booking for Labed. The actress won the Best Actress awards at the Venice Film Festival, Hellenic Film Academy Awards and Angers European First Film Festival for her role in Attenberg, about a 23-year-old woman stuck in a boring factory town. She also won similar awards from Locarno International Film Festival in 2014 for Fidelio, Alice's Odyssey and the Sofia International Film Festival in 2012 for Alpeis. However, it's unclear which role she will be playing the video game adaptation.
Assassin's Creed takes its inspiration from the beloved and best-selling video game franchise of the same name. The series centers on Desmond Miles, who is captured by a secret organization with ties to the Knights Templar. He is repeatedly sent back in time to inhabit the bodies of his assassin ancestors in order to secure valuable historical artifacts. Recently, game developer Ubisoft showed off footage of the latest installment, Assassin's Creed Syndicate, at E3, Electronic Entertainment Expo. Aside from the immense fan base behind this property, what's interesting about this film adaptation is the headlining talent, both in front of and behind the camera. Assassin's Creed helmer Justin Kurzel directs Fassbender and Cotillard in a new take on Macbeth, which is practically already screaming for Oscar attention with its first gritty and thrilling trailer. That film has a U.K. release for October 2, and we're expecting to get a U.S. debut around the same time. Hopefully this trio will bring the same oomph to Assassin's Creed, which is said to begin production this September.
Details on the plot are being kept under wraps, but the film has been in development for quite some time. As Fassbender told ComingSoon in an interview, the creative team wants to do right by this franchise, and it took a while for them to come up with a riveting story for audiences. Fassbender cited the various elements of the games and that you have to pick and choose which ones they think will strike the loudest chords.
Assassin's Creed is currently slated to hit theaters on December 21, 2016.
Your Daily Blend of Entertainment News