Michelle Williams Frontrunner For American Remake Of The Double Hour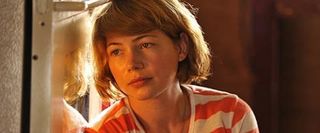 Normally this time of the year, we're discussing where Michelle Williams can position herself in the developing Oscar race. The immensely gifted actress has found herself campaigning on behalf of films like Blue Valentine and My Week with Marilyn in years past. But because she largely took a year off (if you don't count Sarah Polley's Take This Waltz), Williams has her fans looking forward to next year, and future projects. We're hearing of another one.
The Wrap says that the Oscar nominee is the frontrunner for the lead role in a planned English-language remake of the Italian hit La Doppia Ora. Titled The Double Hour, the new film will be directed by Joshua Marston, who helmed <="" i="" of=""> and The Forgiveness of Blood. The word on the film after it premiered at the Venice Film Festival were strong. The story involves a maid and an ex-cop who meet at a speed-dating event. They retreat to a remote cabin where, lo and behold, they are ambushed … and it seems the maid might be in on the grand plan.
Williams already has a number of films on her plate. She'll be promoting Sam Raimi's Oz: The Great and Powerful in March, and plans to shoot the French romance Suite Francaise with director Saul Dibb (though that project hasn't been confirmed at the moment). If she takes the part in Double Hour, does it push Suite off her radar – and possibly open it up for a different actress? Well, yes, and I'm not 100% sure which movie I'd rather see Williams in. Do you? At least she has options, and her fans know they'll have plenty of Michelle Williams movies in theaters for years to come.
Movie junkie. Infatuated with comic-book films. ReelBlend cohost. Resident dad. Extroverted introvert. Wants to see the Snyder Cut. Managing Director at CinemaBlend.
Your Daily Blend of Entertainment News
Thank you for signing up to CinemaBlend. You will receive a verification email shortly.
There was a problem. Please refresh the page and try again.