Miles Teller Will Romance Shailene Woodley In The Spectacular Now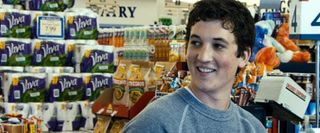 The absolute weirdest celebrity cameo of the cinematic year so far-- and yes, I include Liam Neeson's presence in Battleship-- has to be the moment in Project X when our three heroes run into Miles Teller at the grocery store. They refer to him as Miles, which suggests that he's playing himself, but they also go on and on about his baseball career, when Teller is in fact an actor. He then shows up at the party and gets involved in the shenanigans that follow, but there's never really any explanation of why he's in it-- or why Teller, an up and coming actor with a lot of promise but not a lot of fame, is treated as a celebrity in the weird insular world of Project X.
But hey, maybe it was just a prediction of the future. There's no doubt Teller is on the rise, with his breakthrough role opposite Nicole Kidman in Rabbit Hole and his endearing work in Footloose last fall. Now he's snagged another high-profile part, with Deadline reporting that he'll join The Descendants star Shailene Woodley in The Spectacular Now, a high school drama based on Tim Tharp's novel. Teller will play the popular high school kid who dates a social outcast as "a project," then realizes just how much power he holds. It sounds like some kind of She's All That knockoff, but reviews of the book seem to suggest it's much smarter and more believable than that, and Teller's previous performances suggest he could bring a lot of depth to even the stereotypical popular-high-school-dude role.
James Ponsoldt, who directed the Sundance success Smashed, is directing The Spectacular Now, with plans to start production in Georgia this summer. With its teen focus it probably won't draw the same kind of Oscar buzz that Teller and Woodley heard from Rabbit Hole and The Descendants, respectively, but as a showcase for up-and-coming talent it seems hard to beat.
Staff Writer at CinemaBlend
Your Daily Blend of Entertainment News
Thank you for signing up to CinemaBlend. You will receive a verification email shortly.
There was a problem. Please refresh the page and try again.