This Milla Jovovich Picture Will Get You Hyped For Resident Evil: The Final Chapter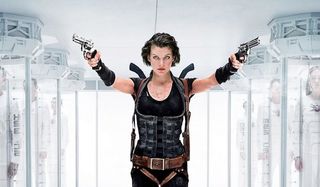 Like the vicious creatures in the films themselves, just when you think the Resident Evil franchise is dead and gone, it sits right back up again and drops another movie. Fans can start getting excited now because star Milla Jovovich just delivered your first taste of the latest installment in the action-packed horror saga, Resident Evil: The Final Chapter.
Jovovich shared this photo on Instagram, and as you can clearly see, she's getting a mold of her face taken, which has always seemed like it would be an unpleasant experience. Uncomfortable special effects necessities aside, Jovovich and her husband, director and franchise mastermind Paul W.S. Anderson, are definitely preparing for some serious "zombie killing."
In fact, production appears to be imminent. Not only is Jovovich going through the prep work, according to the message that accompanies this photo, she is set to depart tomorrow, July 16, for South Africa to get things rolling. That should make fans of the Resident Evil movies quite happy. The fact that it's the last chapter in the tale of badass monster slayer Alice, not so much, but if nothing else, there's at least one more movie to come.
Resident Evil 6 was originally supposed to hit theaters last year, in September of 2014, but it was delayed at the last minute due Jovovich's pregnancy. You probably guessed it's hard, and dangerous, to perform crazy stunts and wear skintight outfits when you're carrying a baby. This was after the script took longer to come together than expected, but even though it may have taken the scenic route, it's still headed to theaters before too long.
With everything apparently rolling along at a nice, even pace, Resident Evil: The Final Chapter should be on track to make its September 2016 release date. At this early stage, we don't much about what the plot will entail, but so long as it features Milla Jovovich as the amnesiac heroine Alice, heavily armed and kicking all kinds of monster ass, the hardcore fans out there will likely be satisfied.
The films have never been critical darlings—the first two ended up on Roger Ebert's most hated lists for their respective years—but they've all done well financially. The 2002 original earned $102 million globally, while 2004's Apocalypse earned $129 million, 2007's Extinction scored $147 million, 2010's Afterlife gathered a series high $296 million, and Retribution, 2012's penultimate episode, raked in $240 million. We'll have to wait and see how The Final Chapter stacks up to its siblings, but the production process is getting started in short order.
Your Daily Blend of Entertainment News