George RR Martin And Milla Jovovich Are Joining Forces For This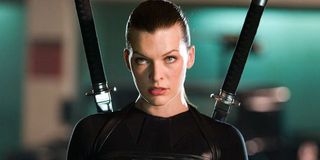 Fans of Milla Jovovich may have cause for concern regarding her latest character: The Resident Evil actress is circling a new fantasy-adventure film based on a story by the Game of Thrones mastermind, George R.R. Martin! Will she be able to tell the Literary God of Death, "Not today?" It looks like we shall certainly find out when Jovovich finalizes negations to appear in this new Martin adaptation.
According to a THR report, Jovovich is finalizing a deal that will have her star in the fantasy epic In the Lost Lands. The film is based on a 1982 short story of the same name by Martin, collected in the volume, Amazons II and will supposedly showcase three separate stories about female protagonists set in a romanticized magical, mystical world of warriors, witches, dragons and other various supernatural creatures. In other words, it will certainly be a "Red Wedding" for the actress who has firmly established herself as a go-to star in the action/sci-fi genre. Should the deal be set in stone, she will join already-cast co-star Justin Chatwin (Shameless), and the film will reportedly begin shooting in Germany in the last quarter of 2015.
Occupying the director's chair will be Constantin Wener, whose last major film was 2009's The Pagan Queen, a controversy-infused fantasy film about 8th century Central Europe's pagan culture. While not widely acclaimed across the board (it's currently sitting at 28% on Rotten Tomatoes), it is an exhibition in the kind of cinematography and outdoor shooting that will prove necessary for this film.
According to Lost Lands' official synopsis (released by studio, Myriad Pictures), Milla Jovovich will play a sorceress named Gray Alys, who finds herself hired to go on what will apparently be a dangerous quest through some bad terrain to obtain a special lycanthropic lore.
It all sounds almost like the kind of archaic fantasy fiction that was running rampant in the 1970s, full of mysticism and a rock-and-roll idealized form of "fur bikinis and swords" sexuality. Seeing as it's inspired from George R.R. Martin's writing in the early '80s that's certainly understandable. However, put the through the contemporary ringer, we might see something different than the novels that male teens of the '70s were digesting while Floyd and Zeppelin spun on the turntable. Namely, it could be a Milla Jovovich action film. We have always seen her in all sorts of hyper-stylized action-adventure romps, laced with ninja-style sword-play as bullets whiz by in slow motion in Woo-esque ways. However, with In the Lost Lands, she will be breaking new ground in her filmography with this quasi-medieval magical action outing.
As of now, no release date has been targeted for In the Lost Lands. However, given that it plans a late 2015 shoot, it will not likely hit theaters any time before summer 2016.
Your Daily Blend of Entertainment News