Monster Squad Remake Scares Up Some Writers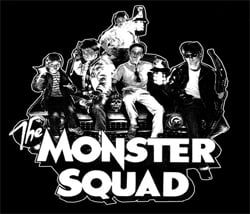 It's impossible to not LOVE the 1987 camp masterpiece The Monster Squad. The story follows a group of kids and their aging Mr. Miyagi-esque mentor who uncover a plot to take over the world led by Dracula, the Wolfman, the creature from the Black Lagoon, the Mummy, and a very reluctant Frankenstein's monster. Who wouldn't love that? It has everything you could ask for; monsters, love, action, heart, and of course the famous line: "Wolfman's got nards!" As something so good from the 80's, of course it's getting remade, and it's just found some writers.
THR has it on good authority that writer cousins Mark and Brian Gunn to pen the script with the original film's producer Rob Cohen returning to produce and direct. The Gunn's most recent effort was Journey to the Mysterious Island, the sequel to New Lines' Brendan Fraser starrer Journey to the Center of the Earth. The remake is being produced over at Michael Bay's Platinum Dunes who is hoping to turn this into a franchise. The trick will be figuring out how to top the story of every classic Universal monster plotting to take over the world. Where to you go from there, really?
No details have been released about start dates or a projected release date, but the amount of buzz this film will garner from fans of the original cult classic (both good and bad) will be enough to put this one on the fast track. I'll have my ear to the ground for anything coming out of the Monster Squad camp. Stay tuned.
Your Daily Blend of Entertainment News
Thank you for signing up to CinemaBlend. You will receive a verification email shortly.
There was a problem. Please refresh the page and try again.