More Action For Miss Moneypenny? Spectre Producers Open Up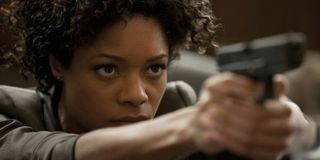 When last we saw Naomie Harris as the new Moneypenny in Skyfall, she was taking a leave from the field and resigning to be the secretary to the new M (Ralph Fiennes). If you thought that was it for the character's adrenaline junkie lifestyle as we head into Spectre territory, don't count her out.
Along with a group of press, we spoke with James Bond producers Barbara Broccoli and Michael G. Wilson while covering the Mexico City set of Spectre. According to them, Miss Moneypenny is still very much involved in the plot of the new movie. Said Broccoli,
There's a reason the Moneypenny reveal was made at the end of Skyfall. If you recall way back when Harris was promoting the film, she outright denied that she was playing the classic Bond character. This made the big reveal seem all the more significant. That wasn't about to be the last time we saw her, but we're glad to see that she's getting back in the field. Her and Bond also had a witty and flirtatious back-and-forth going on throughout Skyfall, and we're looking forward to see more of that.
As Spectre is continuing some of the story from Skyfall, it seems like a natural progression for the character. In the beginning of Skyfall, Moneypenny accidentally shoots Bond off of a speeding train at the behest of Judi Dench's M. That moment plagued her character throughout the film, in addition to Bond's words that field work is not for everybody. While Spectre will be very much driven by Bond and his secret past, it makes sense for her character to rekindle her love for spy work and slowly realize her skills off-desk.
Broccoli and Wilson would not give away anything further on the matter — or any real spoilers, in general — but we did glimpse Harris in the first Spectre trailer. She approached Bond with a package containing some items salvaged from Skyfall, after the big finale showdown. In the box lies a mysterious photograph of presumably a young Bond standing next to an older man dressed in ski apparel. There's no way she's just going to sit on the sidelines, not after she was the one to progress Bond along on his mysterious mission.
Spectre hits theaters on November 6, but we've got loads more coverage coming down the road. We've been on hand on the set for the past couple days, watching Sam Mendes film parts of the opening Day of the Dead-inspired sequences and interviewing some of the cast and crew. Stay tuned!
Your Daily Blend of Entertainment News