The Most Insane Unwritten MPAA Rule On Rating Sex Scenes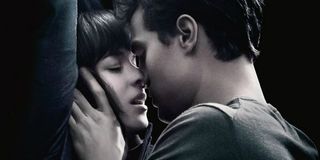 Over the years, the MPAA has earned its fair share of criticism (which is the milder term to describe certain backlash) thanks to its strict ratings policy. In light of Fifty Shades of Grey, which endured a number of edits in order to stay within its R rating, insiders have revealed interesting tidbits about the differences between R and the dreaded NC-17 ratings. However, there's one detail that seems a bit too ridiculous and insulting.
According to insiders, who THR reports have been through the ratings process, the MPAA takes a harsher look at films that depict "random sex" scenes. What that means is that sex between strangers is judged more harshly than sex between those in a committed relationship or a marriage. Apparently women do need men if their sex scenes are going to be shown to a broader audience.
But if you think that's ridiculous, these same insiders say that homosexual sex acts are judged more harshly than heterosexual ones, which adds more fuel to the fire of MPAA haters. Last year, the ratings board endured a harsh backlash from the LGBT community and its allies in their decision to rate Love Is Strange R. The film followed a recently married elderly gay couple, played by John Lithgow and Alfred Molina, as they lose their apartment and must coach surf to their families and friends. It depicted no explicit sex acts of any kind, homo- or heterosexual. In fact, the most sexualized scene involved Lithgow and Molina in a twin bed together kissing and cuddling. The MPAA responded to a request for comment on the situation from ScreenCrush, in which a rep stated the R rating was given for strong language — "as is any film that includes the same level of strong language."
In addition to the bizarre guidelines about random sex and heterosexual vs. homosexual relations, the report also touched on other depictions of sexuality of the big screen and notes that oral sex is a big no no if filmmakers want to keep their works in R territory (which is hilarious if you think about all the times men are depicted receiving blowjobs). As pointed out by THR, this was the argument Ryan Gosling and Harvey Weinstein gave back in the day when the MPAA wanted to give Blue Valentine an NC-17 rating, as it depicted Gosling performing oral sex on Michelle Williams. Thankfully, Weinstein was able to appeal this decision.
These are just some of the numerous details listed by THR, which also suggests cutting down on the number of thrusts and full-frontal nudity. Though, as was proven with Reese Witherspoon's bare breasts in Wild and Ben Affleck's side penis in Gone Girl, brief glimpses are fine. Unfortunately, this just points to the larger issue with the MPAA and once again suggests that their standards are completely outdated and need to be re-calibrated in the modern age.
Your Daily Blend of Entertainment News