New Movie Will Follow Hitman Who Is Double-Crossed And Turned Into Woman By Enemy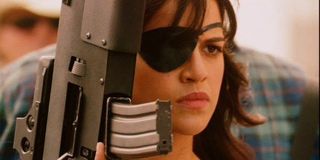 In a movie that could either help the Transgender movement exponentially or set it back a dozen or so years, Walter Hill is directing Tomboy, A Revenger's Tale, which revolves around Michelle Rodriguez being turned from a hitman into a hitwoman by Sigourney Weaver's evil surgeon.
The Hollywood Reporter were the first to confirm that Walter Hill's tale of double-crossing and sex surgery is currently in the final stages of pre-production, and will indeed commence filming on November 9th in Vancouver, Canada. But what will it actually entail? Well the script, which was written by Walter Hill from a story by Denis Hamill, revolves around Michelle Rodriguez's hitman, who is regarded as one of the best in the business when it comes to murdering folks. Unfortunately, the hitman becomes involved with a group of rather evil gangsters who decide to double cross Rodriguez's character. But rather than hurting and abusing Rodriguez in the usual fashion, which would normally include maiming, stabbing, maybe even shooting the actress, they decide to put her in the hands of a rather despicable surgeon, who is ominously known as The Doctor.
Played by Sigourney Weaver, The Doctor then turns Rodriguez's hitman into a woman. After she wakes from her surgery and discovers what has happened to her, Rodriguez sets out to gain revenge on Weaver's character. She'll be aided by a nurse named Johnnie, who also has a huge heap of secrets.
From the sound of things, Michelle Rodriguez has replaced Freida Pinto (Slumdog Millionaire) in the role. Pinto was originally attached when Walter Hill's script starting doing the rounds at the Toronto International Film Festival just last month. She is no longer involved, while the reasons for her departure haven't been disclosed.
At TIFF, producers Saïd Ben Saïd (Map To The Stars) and Michel Merkt, who work for SBS, decided that Tomboy, A Revenger's Tale was the gender-swapping, action movie for them, and quickly picked it up. Now, obviously because of its title and its rather outlandish plot, I am still rather undecided on whether Tomboy is actually going to be worthwhile. But I actually have faith that it could prosper because of the talent involved.
First off, Walter Hill has a long and storied history of creating action-packed films that are peculiar but riveting. These have included The Warriors, The Driver, Southern Comfort, Red Heat, and 48 Hrs. Plus, Michelle Rodriguez and Sigourney Weaver's combined presences in Tomboy, A Revenger's Tale means that it must have something going for it. Weaver and Rodriguez are two articulate, intelligent women, and they wouldn't have signed up if they believed that it was just a cheap attempt to exploit the attention that has been shed on the Transgender movement's plight over the last few months.
Meanwhile, those of you who are looking for what is likely a more composed exploration of Eddie Redmayne struggling and then embracing the realization that he wants to be a woman, you should check out The Danish Girl, which is due out next month, and is simply terrific.
Your Daily Blend of Entertainment News
Thank you for signing up to CinemaBlend. You will receive a verification email shortly.
There was a problem. Please refresh the page and try again.