Why Michelle Rodriguez Wants No Part As Rumored Female Green Lantern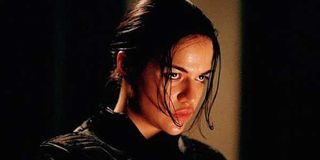 Rumors of Jessica Cruz taking the lead as opposed to Hal Jordan or John Stewart in the DC / Warner Bros. Justice League films and the 2020 reboot of Green Lantern have been making their rounds across the internet as of late. Further, Michelle Rodriguez has been one of the names that's been tossed around as the woman who may embody the bearer of the Power Ring. In response to the rumors, Rodriguez recently shared her blunt thoughts on why she isn't at all interested in filling Cruz's shoes... and she said a lot.
Not one to hold back her thoughts, Michelle Rodriguez seemed delighted to express her disinterest in playing the role of Jessica Cruz. She didn't stop there, though, as the 36-year-old Latina actress' words spoke on a broader level on the issue of diversity in Hollywood. On playing the role of Green Lantern Jessica Cruz, she told TMZ:
After realizing she may not have been all that clear with her statement, Rodriguez posted a second, much longer and more thorough, video to her Facebook, explaining her "tendency to speak without a filter." This is what she had to say:
While many people in Hollywood have championed for more diverse casting of the traditionally white superheroes, the Furious 7 star is obviously not one of them. Not sure where the actress' problems lie with her playing the Hispanic Jessica Cruz, but nonetheless she has opened a conversation that many feel strongly about.
With all of the Big Seven characters expected in The Justice League Part One, only six have, thus far, been cast. Superman (Henry Cavill), Batman (Ben Affleck), Wonder Woman (Gal Gadot), Aquaman (Jason Momoa), Flash (Ezra Miller) and Cyborg (Ray Fisher) are all set in stone, leaving only Green Lantern yet to be announced. What do you think? Would Michelle Rodriguez be a good fit for Jessica Cruz? Or alternatively, do you think Warner Bros. should go stick with Hal Jordan or even go the route of Guy Gardner or John Stewart... the lattermost likely being played by Tyrese Gibson?
Your Daily Blend of Entertainment News
Thank you for signing up to CinemaBlend. You will receive a verification email shortly.
There was a problem. Please refresh the page and try again.