Star Wars Box Office Predictions Are Already Insanely High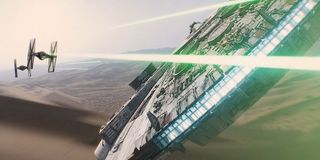 We already know that when Star Wars: The Force Awakens opens later this year, it's going to make a lot of money. Even if Lucasfilm has cautioned that it may not make as much as people think, however it goes down, it'll do just fine. According to one new prediction, however, The Force Awakens is going to make an insane amount of money, like just a stupid, ridiculous number.
According to Deadline, some industry experts are already predicting that when The Force Awakens hits theaters in December, it will make historic sums of money. The number being bandied about right now is that we could be in for a $615 million global opening, as in people guess that the J.J. Abrams-directed space opera might make $615 million in its first weekend. Yes, that is nuts.
To provide some context, if this does indeed happen, which is a big if, it will be the second time the record has been broken in 2015. When Jurassic World premiered back in June, it smashed the record, taking in just over $524 million in its debut weekend. It went on to top $1.6 billion worldwide, and become the third highest grossing movie ever. And some people already predict The Force Awakens will top that.
It certainly has some things going for it. Like Jurassic World, there is a heavy nostalgia factor in play. Many of us have never lived in a world without Star Wars (I did once for two weeks, but that was a long time ago), and we're talking about perhaps the most beloved franchise of all time. While many were turned off by the prequels, they also created new generations of fans, as have the likes of The Clone Wars, Rebels, and the myriad books, games, comics, and other properties over the years. This is a saga that crosses generations—me, my dad, my 10-year-old nephew, and I are all equally excited for this.
If you want an indication of how popular Star Wars still is, just look at Star Wars: Celebration back in April which gathered 60,000 fans. The Hall H presentation at San Diego Comic-Con in July was massive and overflowing, and the first trailer racked up north of 100 million views.
Disney and Lucasfilm obviously have faith that people want to see this. They've already laid out a road map of six films where we'll get a new movie every year starting in December—in on glorious 18 month span, we'll get three new Star Wars movies. This includes a trio of Episode movies that follow after the events of Return of the Jedi, and three Star Wars Story movies, that illuminate other corners of that far, far away galaxy. Beyond that, there are novels and comics and games and more that are all on the way and part of the official canon.
The Force Awakens is expected to open in 4000 theaters and play on 10,000 screens. Starting with the day of release, the film also has dibs on every IMAX screen in the U.S., for a month. Additional revenue from that is only going to push the number higher.
We'll have to wait and see if these projections pan out, or if Star Wars: The Force Awakens can challenge for the top box office spot of all time—this is certainly a movie that, if it connects with fans, they'll see multiple times, and the hype surrounding it is astronomical, so it has as good a chance as any other.
Star Wars: The Force Awakens hits theaters on December 18.
Your Daily Blend of Entertainment News