New Muppets Movie On The Way Without Jason Segel As Screenwriter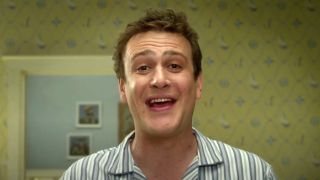 (Image credit: Walt Disney Studios)
For years Jim Henson's beloved Muppets had been relegated to forgettable TV movies and embarrassing commercials until rising comedian/screenwriter Jason Segel spun the success of Forgetting Sarah Marshall into a tool to push his ultimate passion project, The Greatest Muppet Movie Ever Made. Of course, while his enthusiasm remained high, the title later changed to The Muppets, and the resulting film proved to be a fun family comedy that thrilled audiences and critics alike, and even won an Oscar for its pivotal anthem "Man or Muppet." So a sequel of sorts seemed guaranteed. Sadly, Vulture reports that while Disney has made a deal with Muppets director James Bobin and co-writer Nicholas Stoller to create a sequel to the winsome adventure, it looks like The Muppets' spearheader Segel may be left out.
Now, this isn't from malice or because of Segel's laughably inept dance moves—because while clumsy they are undeniably endearing. It's simply that Segel is such a hot property he may not have time to collaborate on the screenplay between his commitment to How I Met Your Mother, promoting his new rom-com Five Year Engagement and Judd Apatow's Knocked-Up spin-off This is 40. However, this doesn't mean that Segel won't reprise his role as the Muppet of a man Gary. It's possible that Bobin and Stoller will be able to work in a way for Segel to appear either as a co-star or at the very least in classic Muppet cameo fashion. But with the script being a mere wisp of an idea at this point, it's too soon to say. All the same, let's hope Segel gets some screentime and pray that Bret McKenzie will return to make some more Muppet music magic!
Your Daily Blend of Entertainment News
Staff writer at CinemaBlend.