Murder Mystery The Last Of Shelia Getting A Remake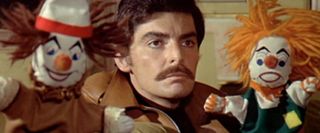 Put this in the pile of things you learned today: Anthony Perkins and Steven Sondheim wrote a revisionist whodunnit together in the 1970s called The Last of Sheila. That's right, Norman Bates from Psycho and the eight time Tony Award winning composer of A Funny Thing Happened on the Way to the Forum crafted a screenplay for director Herbert Ross that brought several big name actors together for a reimagining of the murder mystery formula, this time at sea.
No stuffy old mansions and butlers, this killer tale takes place entirely on a yacht. I guess that means they shouldn't wait to (not) be saved by the obligatory (and doomed) policeman that arrives about half way through - unless it's the coastguard. THR reports that producer Beau Flynn, whose credits include Journey 2: The Mysterious Island and the recently pushed back Hansel and Gretel: Witch Hunters, and his FPC Banner are behind this new version of The Last of Sheila which is still in search of a writer. In keeping form with the original, perhaps Flynn should hire a duo like Robert Englund and Andrew Lloyd Webber?
With the first film being a heavily self-referential, tongue-in-cheek, cult classic, Flynn has his work cut out for him in finding the right writers (Reese and Wernick? Kevin Williamson?), not to mention the right cast to fill the overwhelming large shoes left by James Coburn, Raquel Welch, James Mason, Ian McShane, and Dyan Cannon from the first voyage of The Last of Sheila. Flynn at least has some experience in the remake game, although no one has had a chance to see the result with Red Dawn gathering dust on a shelf somewhere. FilmDistrict finally opens the film this November, but by then I'm sure the second Last of Sheila will be well underway and it'll be too late to sink the ship.
The Last of Sheila is about a group of friends who join a Hollywood producer aboard his yacht to commemorate the one-year anniversary of his wife's death by a hit and run. After the ship departs the guests begin playing a parlor game that starts to hint at the more sinister motivations of the trip. Once the host shows up dead and it's revealed that the hit and run killer is also aboard, well, the game is really afoot. Oh, and an interesting bit of trivia about the original, the celebrated composer didn't even do the score for The Last of Sheila, instead those honors fell to Billy Goldenberg with an original song by Bette Midler called "Friends."
Your Daily Blend of Entertainment News
Thank you for signing up to CinemaBlend. You will receive a verification email shortly.
There was a problem. Please refresh the page and try again.