'NSync And The Backstreet Boys Are Making A Zombie Movie Together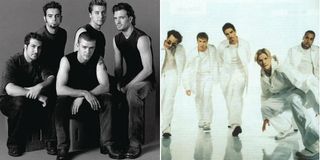 This is not a drill. One of the most important and intense rivalries of all time is about to come to a stand still. Boy-band icons Backstreet Boys and 'NSync have seemingly put their competition to be the one and only number one '90s boy band aside to fight zombies. It seems as fitting a move as ever, because when else would you hear of these two groups working side by side? Of course the answer is some sort of apocalypse. So the two boy bands are creating a movie about a zombie plague.
The news of this jaw-dropping endeavor comes via Rolling Stone, who got an exclusive interview with a few key members of the project. Nick Carter of the Backstreet Boys told the magazine that the movie is a "zombie Western futuristic horror movie." Rolls off the tongue nicely, doesn't it? Carter made sure to point out that his character will be a "good guy that's going to help save the day." Aaron Carter's older brother will write and star in the post-apocalyptic drama with the movie studio behind Sharknado, so it's pretty much guaranteed to be exactly what you'd expect in this scenario.
Currently the 'zombie Western futuristic horror movie' is tentatively titled Dead 7 and is set to follow a ragtag band of gunslingers as they fight off the zombie plague. Carter will be joined by fellow Backstreet boys, Howie Dorough and A.J. McLean as well as 'NSync's Joey Fatone who told RS, "I get to be the drunk." Carter also hopes to reach out to Jordan Knight from New Kids on the Block, as he wants to keep the film "musically based".
Of course we know what you're wondering. What about JT? Being that Justin Timberlake continues to hold relevance, that may be a tall order for this current crew. But even if Timberlake wanted to relive his denim-wearing Britney Spears-dating days, Carter doesn't seem to want him. Fatone explained:
The crew hopes their film can reach similar cult status as to what happened with Sharknado. Apparently Carter is a big horror movie fan and went to The Asylum, the company behind Sharknado and they were impressed with his idea of pop music stars placed in a genre setting, and immediately moved forward. Carter has not had much film experience prior to this project, but he also was responsible for a Backstreet Boys comic book collaboration with Stan Lee back in 2000, and his fellow Backstreet Boys vouch for his sci-fi fandom. As for working with their old competitors, Fatone explained that there never has been animosity between the two:
From the sound of it, the film is still in its early stages of casting, so no word on a release date yet. Even if the two boy bands apparently never hated each other, this moment, of them together on screen, will go down in history.
Your Daily Blend of Entertainment News