Backstreet Boys Are Back With Tell-All Documentary And Tour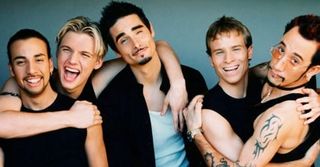 The latter half of the 1990s were defined by a music landscape littered with pop princesses and boy bands. It was a time when the Backstreet Boys were internationally recognized megastars. And this is the era that will be revisited in Stephen Kijak's tell-all documentary produced by Pulse Films.
THR reports Kijak, the documentarian behind Scott Walker: 30 Century Man, will chart the band's formation through their superstardom, when they sold over 130 million albums becoming one of the 30 best-selling global artists of all time. Each of the original members of Backstreet Boys (A.J. McLean, Howie Dorough, Nick Carter, Kevin Richardson, and Brian Littrell) is on board for this in-depth—though currently untitled—doc, which promises an all access pass to fans new and old.
Over the years the band has seen some shakeups. In 2006, Richardson memorably left the group. But since he recently rejoined it, the founding five have big plans for their fast approaching 20th anniversary. This April, the reunited boy band will be releasing a new album, and will be going on a world tour that kicks off in May. As Kijak expects to wrap shooting on the project this fall, it's safe to assume his doc will take advantage of the tour, possibly shooting for 3D, as Katy Perry's Part of Me, another Pulse release, did to great effect.
This would explain Kijak's comment that this doc won't be a "3-D Boy Band puff piece." Instead, with the help of the original members, Kijak aims to explore the human story behind the band's work and success, insisting, "BSB is getting real and it has been exciting to work with them as they explore their past and start to look towards their futures."
The Backstreet Boys doc is expected to come to theaters in 2014.
Your Daily Blend of Entertainment News
Staff writer at CinemaBlend.