NWA Biopic Straight Outta Compton Finds Its Snoop Dogg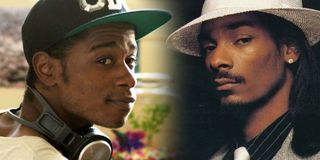 The NWA biopic Straight Outta Compton is in the thick of production, and picking up momentum with the announcement of a dash of Snoop Dogg.
The Wrap reports Short Term 12's Lakeith Lee Stanfield (formerly credited as Keith Stanfield) has signed on to Straight Outta Compton to play a young Calvin Broadus Jr., A.K.A. Snoop Dogg (A.K.A. Snoop Lion). Stanfield joins a cast of relative unknowns including O'Shea Jackson Jr. (Ice Cube), Corey Hawkins (Dr. Dre), Jason Mitchell (Eazy-E), Aldis Hodge (MC Ren) and Neil Brown Jr. (DJ Yella). Also on board is Paul Giamatti, who is set to play NWA's influential manager, Jerry Heller.
Helmed by F. Gary Gray, Straight Outta Compton will be set in the mid-1980s streets of Compton. There, the film will unfold how five young men came together as the rap group NWA, traveling through the band's subsequent rise to fame and fall into tragedy. Other real-life figures who are set to be portrayed in the biopic include Suge Knight, Warren G (Sheldon A. Smith), and Tomica Woods (Carra Patterson). It's also been reported that Ice Cube and Dr. Dre will play themselves in a portion of the film, but there's no word on whether or not Snoop Lion will do the same.
This is a good get for Lakeith Lee Stanfield, who's on the rise. He made his screen debut in 2008 in the short film Short Term 12, then reprised his role as a troubled youth in its 2013 feature film adaptation. As Marcus, Steinfeld shared the pain of his life through rap. So the leap to playing a rap star isn't all that far.
Check out Stanfield's Short Term 12 rap scene below. Be warned, it contains language that is NSFW. As Marcus says, "There's a lot of fucks in it."
Full Disclosure: This scene still gives me chills. You can watch the entirety of Short Term 12 now on Netflix. Despite it's dark subject matter, it's surprisingly uplifting.
Anyhow, since then Lakeith Lee Stanfield landed a role in a little-seen biopic called Memoria, as well as a part in The Purge: Anarchy as one of the cryptic crew chasing down Zach Gilford and Kiele Sanchez. He's now in production on the Miles Davis biopic Miles Ahead, which stars Don Cheadle as the legendary musician. Stanfield's also attached to the recently announced Nicholas Bateman crime-drama The Wanting Mare. But perhaps even more promising is his role in the upcoming docudrama Selma.
Produced by and starring Oprah Winfrey, Selma centers on the Civil Rights movement, and how the efforts of Martin Luther King Jr. changed the landscape of modern America. David Oyelowo (Lee Daniel's The Butler) stars as Martin Luther King Jr., while Carmen Ejogo will portay Coretta Scott King. Cuba Gooding Jr. plays Fred Gray; Lorraine Toussaint plays Amelia Boynton. Wendell Pierce is set for Reverend Hosea Williams, Common for James Bevel. And Tom Wilkinson will take on the role of President Lyndon B. Johnson. For his part, Lakeith Lee Stanfield will play Jimmie Lee Jackson, a key but tragic figure in the Civil Rights movement. This could mean that Selma will offer Stanfield the kind of role that could land him major attention. But for many, he'll be the new Dogg.
Your Daily Blend of Entertainment News
Staff writer at CinemaBlend.