Oprah Winfrey Joins Selma, Which Will Be Released On Christmas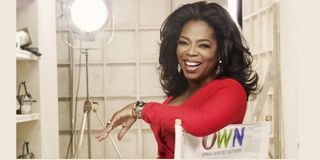 Look out, Oscars. Oprah's coming for you. After being shut out last year for Lee Daniels' The Butler, she's returning with a vengeance, and she's armed with even more black history to slap upside your head. It's the story of Dr. Martin Luther King Jr., and Oprah is demanding that you better recognize one of the most pivotal figures in American history.
Paramount Pictures has announced that Oprah Winfrey, who is producing Selma, will also be taking a supporting role. The film, which traces Dr. King's fight for voting rights that led to a historical march upon Selma, Alabama, adds Winfrey to a cast that includes David Oyelowo (as King), Tom Wilkinson, Carmen Ejogo and Tim Roth. Winfrey is playing Anne Lee Cooper, a major civil rights leader who fought in Selma for her voting rights. She was known for challenging Sheriff James Clark face-to-face, and decking him with a right hook while in line to register to vote. She was 54 at the time. Yes, that scene is ridiculous. Yes that scene is awesome. Yes, that scene needs to stay in the movie.
Paramount also announced that we'd be seeing this film on Christmas, where it would enter limited release and, naturally, the Oscar race before a wider expansion on January 9th. Not sure why they wouldn't go wide on Christmas, one of the year's most competitive release dates. It's a busy date, but there's no clear-cut top attraction for fans. Families might flock to Paddington, lone adults might try out Hot Tub Time Machine 2. Couples will check out Cameron Crowe's latest untitled film, or the Angelina Jolie-directed Unbroken.And the one seeking the most mainstream appeal is Into The Woods. Selma will join Tim Burton's Big Eyes in grabbing attention in limited release.
January 9th oddly enough feels more competitive. As everyone else will be back at work and/or not with their families or close ones, Selma will deal with Taken 3, as well as the comedy Kitchen Sink and the nationwide expansion of Inherent Vice. Regardless, the Christmas day slot means Selma ends up squarely in that Oscar sweet spot, and will likely campaign for director Ana Duvernay, star Oyelowo, and now, most likely, Oprah Winfrey for Best Supporting Actress. Winfrey took home an Academy Award in 2012, but it wasn't for performing onscreen: she was the proud recipient of the Jean Hersholt Humanitarian Award. But it's likely she's hoping to add one for her talents in addition to her offscreen contributions. Selma just might make that happen.
Your Daily Blend of Entertainment News