NYCC: Alien Trespass Promises Seven-Foot Penis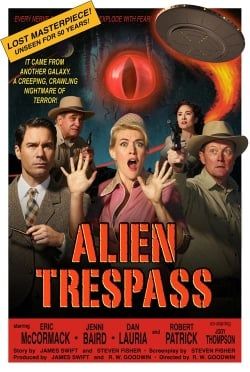 Hello and welcome to Cinema Blend's first dispatch from New York Comic Con! The adorable kid sister to the big one in San Diego, NYCC still draws in its share of filmmakers, actors, and lots and lots of geeks. Even though they're trekking to the far west side of Manhattan in sub-freezing temperatures, people were still out and about in their anime-inspired costumes and Princess Leia bikinis when I came by this afternoon.
The big stuff gets started tomorrow, kicking off with an 11 a.m. Warner Bros. panel on Watchmen and Terminator: Salvation, but today I got to spend some time with the people behind a much smaller, and much goofier movie: Alien Trespass. It's sold as "a lost sci-fi epic" from 1957, abandoned when mogul producer Louis Q. Goldstone refused to release it, but recently uncovered by befuddled construction workers. Sure, it stars modern-day actors Eric McCormack, Robert Patrick and Dan Lauria, but why should you let that spoil the illusion?
On hand to present a behind-the-scenes featurette about the movie, plus answer audience questions, were Lauria and director R.W. Goodwin, a veteran of The X-Files, Tru Calling and even 80s cult series Life Goes On. You can see most of what was in the featurette at the Alien Trespass website; it's a combination of a TV news segment about the uncovering of the "lost film" (with some great jokes at the expense of movie geeks), and interviews with the actors. That's where it gets tricky, and a lot sillier; Lauria, McCormack and Patrick all introduce the interviews as themselves today, saying that it was their fathers and grandfathers who starred in the movie. McCormack's grandfather was actually "M. Eric McCormack," which results in everyone calling him "Meric." I told you it was silly.
Alien Trespass takes place in a typical small town in the 50s, where an alien saucer lands and a brave scientist (played by McCormack) must lead his fellow townspeople in fighting off the alien threat. Obviously lots of people get attacked by aliens in the meantime, and apparently McCormack's character has an alien double who shoots laser beams out of his hands. Like I said: totally silly, but totally fun.
Lauria and Goodwin spoke at length about their love for the original 1950s sci-fi movies, which were the inspiration for everything in Alien Trespass. They weren't aiming to make a parody, but an accurate recreation of the style of 50s sci-fi-- which means a little bit of comedy makes it in there regardless. As Goodwin put it, they were being "intentionally, inadvertently funny."
But it's hard to do anything but laugh at their descriptions of the alien monster in the movie, which you see only briefly in trailers. Both Goodwin and Lauria admit up-front that the monster is a seven-foot-tall penis with an eyeball, plus some tentacles meant to make it look less phallic, but which Lauria called "French ticklers" regardless.
Goodwin promises that the nostalgia trip of Alien Trespass will be worth it, especially with everything in the real world on the downward slide; "It's kind of nice to go back to the 50s for two hours." Check out two minutes of hte panel below, where Goodwin talks about his goal of honoring the old sci-fi movies, and Lauria points out the obvious phallic implications of their alien best.
Alien Trespass will be released in 24 markets across the country on April 3.
Staff Writer at CinemaBlend
Your Daily Blend of Entertainment News
Thank you for signing up to CinemaBlend. You will receive a verification email shortly.
There was a problem. Please refresh the page and try again.