Natalie Portman's Directorial Debut Drops Its First Trailer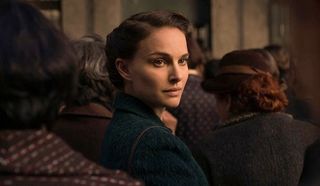 With all of the Star Wars news that's come down over the last couple of days, it's somehow only fitting that we talk about one of the key players in the prequels: Natalie Portman. The 34-year-old actress is one of the latest to make the jump behind the camera, and we now have a first trailer for her directorial debut, A Tale of Love and Darkness.
If you don't speak Hebrew, you're out of luck and you're going to have to rely on the imagery in this trailer, but there's still plenty to take in. Between the muted color palate and the heavy, ominous tone, you definitely get the almost magical, fable-like feeling Portman, who also wrote and stars in A Tale of Love and Darkness, is going for. It's hard to tell in a two-minute trailer, but from what we see here, you can imagine this winding up a bit overwrought, but we're willing to give Princess Amidala the benefit of the doubt.
Based on the autobiographical novel of the same name by Amos Oz, A Tale of Love and Darkness essentially tells the story of the founding of the state of Israel, as filtered through Oz's own experiences growing up. The tale begins in Jerusalem in 1945 and follows young Amos (Amir Tessler) and his parents, Arieh (Gilad Kahana) and Fania (Portman). As tensions mount between the Jews and Arabs, Amos grows up in a small apartment full of books in many languages and relatives. The saga follows him as he deals with his mother's suicide as an adolescent, leaves his family and community to join a kibbutz, becomes a writer, and participates in the turbulent political life of his homeland.
A Tale of Love and Darkness debuted on the Croisette at the Cannes Film Festival back in May, where a number of critics harped on the melancholy tone and overall dreary feeling and sensibility. Watching this trailer, you definitely get a taste of what they're talking about. But with Portman's earnestness, obvious affection for the source material, and innate charm, there's definite potential in this footage as well. If nothing else, it's always interesting to see performers step into a new role as director, and this definitely looks like it will be an intriguing first feature.
There's currently no U.S. release date for A Tale of Love and Darkness, hence the international trailer, but we're curious, and this is one we'll be keeping an eye on.
Your Daily Blend of Entertainment News
Thank you for signing up to CinemaBlend. You will receive a verification email shortly.
There was a problem. Please refresh the page and try again.