National Geographic Films Rumored To Be Shutting Down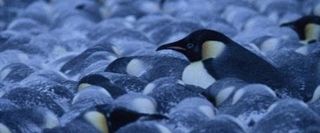 The spotty economy may have claimed a new victim: the people that brought us the Morgan Freeman-narrated adventures of a bunch of plucky penguins back in 2005. The Wrap reports that National Geographic Films, which distributed the Academy Award-winning March of the Penguins, will be shutting down. The rumor originates from "two individuals with knowledge of the studio."
The studio has released multiple documentaries since 2005 -- including God Grew Tired of Us, Arctic Tale, and The Way Back -- but none of them have rivaled the success of the acclaimed March of the Penguins. That film brought in a worldwide gross of $106 million. Compare that to last year's The Way Back, with a worldwide gross of $5.58 million. Despite having several films in release this year, the studio has brought in a mere $1.7 million in revenue. According to The Wrap's story, National Geographic Films President Daniel Battsek is currently negotiating to leave, and the studio is in the process of shuttering.
It's a shame, but not surprising given the belt-tightening going on throughout the industry and the competition from nature-heavy cable networks like Animal Planet and, well, the National Geographic Channel. With money tight in many households, I imagine it's harder than ever to get potential audience members to fork over their ticket money when they could instead be watching the latest big action release or just turning to cable (or Netflix, or whatever) for their animal-documentary fix.
In my head, Morgan Freeman is providing a mournful narration about the end of things...
Your Daily Blend of Entertainment News
Thank you for signing up to CinemaBlend. You will receive a verification email shortly.
There was a problem. Please refresh the page and try again.