Chris Pine May Play Green Lantern, Alter DC Comics' Plans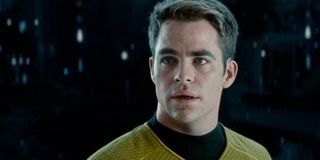 Chris Pine is turning into the Joseph Gordon-Levitt of the DC movies. Remember when Marvel fought tooth and nail to try to get JGL into movies like Guardians of the Galaxy (he was up for the role of Star-Lord) and that rumor about him playing Doctor Strange? Now Pine is filling this same role, as he's rumored for a couple of different roles in the DC cinematic universe. The latest report suggests Warner Bros. wants him to play Hal Jordan, the most widely known Green Lantern.
The report comes from Latino Review, which details how the upcoming Green Lantern movie could feature multiple human Lanterns, as opposed to just the one depicted in the Ryan Reynolds-led movie. Amid the column, the site posits that the rumors about Pine joining the DC movies was actually about him closing in on a deal to star as Jordan. If you recall, Pine was previously rumored for a role in the Wonder Woman movie as Diana Prince's love interest, Steve Trevor. So for the time being, let's take this with a grain of salt, as there seems to be a lot of crossed wires.
Hal Jordan is one of the more charismatic of the Lanterns. A pilot for the Air Force, he was chosen by the Green Lantern Corps. to help oversee Sector 2814 by Abin Sabur. The dying alien used his power ring to locate the most worthy being, and though Guy Gardner was also worthy, Jordan was closer to his crash site.
Pine had already been linked to this role a few years ago. After the lackluster response from audiences over Reynolds's movie, rumors began swirling that the Star Trek star would be returning to space as the DC hero. At the time, however, Pine said that he only had a meeting with casting director Pam Dixon and executive producer Donald De Line, but that was all it was, a meeting.
In addition to Pine, Tyrese Gibson of the Fast and Furious movies and Common of Selma were also linked to the Lantern movie in some capacity. Though, Common now has a role in David Ayer's Suicide Squad, which presumably means he can't also play Green Lantern elsewhere in the movie universe.
The Green Lantern movie doesn't hit theaters for some time; it's currently slated for 2020. That said, it seems like just about all the main Justice League-rs will be making at least cameo appearances in 2016's Batman v Superman: Dawn of Justice. We already know that Ben Affleck's Batman will be going up against Henry Cavill's Superman, but Gal Gadot's Wonder Woman and Jason Momoa's Aquaman have both been officially confirmed, while Ezra Miller's The Flash and Ray Fisher's Cyborg are expected to appear, as well. And it wouldn't be a true party without Green Lantern.
Your Daily Blend of Entertainment News