Nic Cage Loses His Muslim Son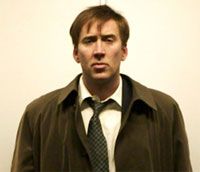 Once he's done hunting American treasure, Nic Cage will hop into the Middle East quagmire genre. If we don't get out of Iraq soon, we're going to end up with nothing but depressing movies set in the sand. Is any Hollywood actor not doing a Middle East movie?
Cage's take on how much it sucks over there has him playing a father searching for his college-aged, American-born, Muslim son who goes missing overseas. The movie's called The Vanished. To be fair, the report on the film from Variety doesn't actually say his kid disappears in the Middle East, but in Hollywood Muslim and missing overseas almost always means a trip to Saudi Arabia… doesn't it?
The movie is helmed by Palestinian-born director Hany Abu-Assad who got noticed last year for his movie Paradise Now. That movie followed a pair of Palestinian kids to become terrorist suicide bombers. By comparison, The Vanished is practically a Farrelly Brothers movie. Don't confuse it with The Invisible, which was also about a kid disappearing, only it was less important since it didn't happen anywhere near Iraq.
Your Daily Blend of Entertainment News