The Nickelodeon Cartoon Mashup Movie Just Took A Huge Step Forward, Get The Details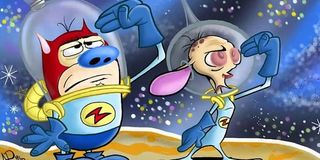 If you fall into a certain age bracket, shows from Nickelodeon's stable of animated properties— Rugrats, Ren & Stimpy, Rocko's Modern Life, and a slew of others—hold a significant and nostalgic place in your heart. Aside from SpongeBob, the network has never done all that much with them in terms of movies, but that is about to change. They're working on a mash up film called NickToons, and the project just took a big step forward by hiring director Jared Hess.
Jared Hess, who is best known for directing movies like indie comedy Napoleon Dynamite and the Jack Black-starring wrestling flick Nacho Libre, will, according to Deadline, take the helm for NickToons. He'll also write the script, once again teaming up with his wife, Jerusha Hess, who has collaborated with her husband on all of his directorial efforts up to this point, including their latest, Don Verdean. Why mess with a good thing?
NickToons sounds like an ambitious undertaking. It's been compared to Who Framed Roger Rabbit? and Space Jam, as well as more recent mixtures of animation and live-action, like The LEGO Movie. The idea is basically to bring a ton of your favorite Nickelodeon cartoon characters all into a single shared movie, so expect to see characters from Doug run into those form Angry Beavers, while waving hello to Hey Arnold and more. And all of this will also go down in the real world where the cartoons will presumably interact with live actors, at least to some degree.
The idea has been kicking around for a while, but hiring Jared Hess as the director is a big step forward. The concept comes from Ali Mendes, who works for Mary Parent's Disruption Entertainment, who will handle the producing for Nickelodeon and Paramount Pictures. There are a lot of rights to pin down for an undertaking like this, but with Nick involved, you'd think such a feat should be doable.
Given how fondly so many people think of the Nickelodeon back catalog of cartoons, it is a bit surprising that it has taken this long to get to this point, though executives at the network have previously said that they would like to find a way to dig into their library and bring these titles forward again. Looks like they have found the right vehicle.
NickToons is going to be an interesting project to watch develop. It's certainly a clever idea, and one that could see Nickelodeon capitalize on their collection of animated titles—the potential to spin off in a variety of directions is also there as well. But there is little connective tissue between them all, so it will be a tricky endeavor to see these shows brought together on the big screen. Is this going to be a situation where the animated characters somehow come to life in the real world? Do they walk among us and it's just part of normal daily life? We'll have to wait and see.
Your Daily Blend of Entertainment News