Napoleon Dynamite Director Making 'Home Alone In A Toy Store' Family Comedy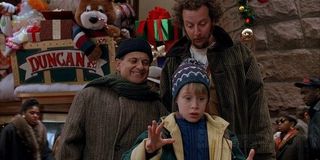 Jared Hess, who wowed the world with Napoleon Dynamite back in 2004 – how old does that make you feel? – is going to blend his idiosyncratic cinematic sensibilities into Disney's Overnight At 42nd Street. This has delightfully been described as Home Alone set inside a toy store. Erm, is anyone going to tell them about Home Alone 2: Lost In New York?
According to Variety, Disney hired Jared Hess as Overnight At 42nd Street's director, and he will now bring Oren Uziel's script to the big-screen while working together with producers Neal Moritz and Ori Marmur. At the moment, not too much is known about Overnight At 42nd Street, other than the fact that it will revolve around a father and son who are granted the opportunity to spend a whole evening inside an extravagant toy store.
Which, to me, sounds a little bit too much like Home Alone 2: Lost In New York, especially since Home Alone has already been touted as an inspiration for the film. The sequel to the 1990 monster hit saw Macaulay Culkin's Kevin McCallister spend plenty of time inside New York City's Duncan's Toy Chest. Of course, Kevin McCallister doesn't actually sleep inside the store, which is instead habituated by the Sticky Bandits, so that should mean that Overnight At 42nd Street avoids being a blatant copycat. However if at any point it features a turtledoves Christmas decoration, then I'll instantly become a little suspicious.
Overnight At 42nd Street previously spent several years in development over at Gary Sanchez Productions, where it was going to be a vehicle for Will Ferrell. However, since the Anchorman and Blades Of Glory actor dropped out, the role of the parent is still very much open. And with Hess now on-board, Disney currently is going full pelt looking for the perfect father and son combination for the comedy.
While all signs suggest that Jared Hess should be a perfect match for Overnight At 42nd Street, he has struggled somewhat since the release of Napoleon Dynamite. The 2004 comedy managed to strike a chord with a mainstream audience, and after it was picked up a Sundance it snowballed in popularity to such an extent that it made $46.1 million from its $400,000 budget. Its quirky, deadpan tone and warm aura was perfectly complimented by a career-defining turn by Jon Heder, and great things were expected of both him and Hess.
Unfortunately that promise was never realized. Heder was unable to escape the shadow of Napoleon Dynamite, while he also made poor choices, and Hess' Nacho Libre and Gentlemen Bronocs were pale imitations of his debut feature film, and failed to get the best of their more esteemed cast.
However, all is not lost. Because more than 11 years after Napoleon Dynamite first charmed audiences, and six years since his last feature, 2015 will see the release of two Hess films: Masterminds and Don Verdean, the first of which stars Zach Galifianakis, Owen Wilson, Kristen Wiig and Jason Sudeikis, while the latter will feature Sam Rockwell, Amy Ryan, Danny McBride and Will Forte.
If all goes according to plan, Overnight In 42nd Street will probably follow in either 2016 or early 2017. While the fact that Hess has been hired by Disney suggests that both Masterminds and Don Verdean have plenty going for them.
Your Daily Blend of Entertainment News