Nicolas Cage To Re-Team With Tokarev Director For Men With No Fear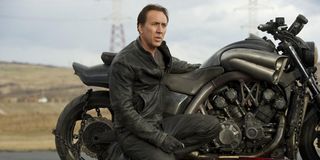 It's no secret that Nicolas Cage is one of the industry's biggest comic book fans. Few could have matched his massive collection of old comics back in the day, when he changed his surname to reflect his love of the Marvel Comics character Luke Cage. He was almost Tim Burton's Superman, and at one point he could have been Sam Raimi's Green Goblin - but naming a child Kal-El was the closest he came to comic immortality. He eventually featured in two Ghost Rider movies, but by then, it seemed as if Cage's passion for comic book heroes, and big blockbusters, had waned.
It looks like that might all change with his latest, Men With No Fear. Cage will play Marvel's Daredevil, the horned hero wh- wait, no? Oh? Wait, so this is something different? You specifically said Man Without Fear. What the hell, man?
Okay, so THR reports that Cage is in talks to star in Men With No Fear, which actually has nothing to do with comic books or superheroes at all. Instead, Cage will play Marty "The Mule," an ex-con recently released from prison and seeking revenge on his former boss, Frank. Not only did Frank roll over on him, but when Marty went to prison Frank unofficially adopted his son, raising him as his own. Vengeance won't be that easy, however, as now Frank has become a notorious drug kingpin.
The project is being written and directed by Paco Cabezas, and produced by Bryan Singer. Described as a "thrilling heist movie," the film is currently out to financers at the European Film Market, though it's unclear what crazy investor they're trying to seduce. Nicolas Cage is coming off a run of leading man roles so toxic that Ghost Rider: Spirit Of Vengeance was the box office highlight - a film that grossed less than half of its predecessor and led a studio to allow a potentially profitable brand name to lapse back to Marvel Studios. And while Singer's doing X-Men: Days of Future Past, his last film was Jack The Giant Slayer, and if there's any guy you probably don't want to be in business with, it's the guy who just lost his employers roughly $100 million-plus.
Cage is entering a new phase of his career, and as one of the great actors of his generation, you want to root for him. He's casting his lot with Cabezas, who just worked with the actor on the kidnapped daughter thriller Tokarev. Cabezas is a bit of a punk rock filmmaker, best known for 2010's ridiculous sex-and-crime pastiche Neon Flesh. He's not the new De Palma, but he's certainly a voice with a lot of youthful energy, and it would be a boon for both parties if Cage could bring him to America.
Your Daily Blend of Entertainment News
Thank you for signing up to CinemaBlend. You will receive a verification email shortly.
There was a problem. Please refresh the page and try again.