Nicolas Winding Refn Defends Ryan Gosling's Maligned Directorial Debut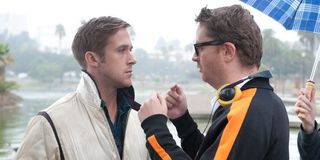 They ride together, they die together. Nicolas Winding Refn isn't abandoning his bro Ryan Gosling after the actor's directorial debut, the trippy, divisive Cannes mindbender Lost River. The Drive collaborators found themselves at Cannes with Refn a part of the jury, and Gosling debuting his new film on the Croisette. Lost River might not have won anything, but it certainly won Refn's heart.
Speaking to Vulture about the film, which might eventually be sold off by Warner Bros., Refn says,
Lost River, based on a script Gosling wrote himself, deals with a kid discovering a secret underwater town in Detroit, leading his mother (Christina Hendricks) to engage in an elaborate search to find him. The film's packed many surreal touches into its runtime, and you can see some of them here in this official clip.
It's admirable for Refn to stand up for his bro. The films the duo have worked on, which includes Drive and the hallucinatory Only God Forgives, showcase what feels like a singular vision, with Gosling almost acting as an appendage to Refn's ideas and concepts. He doesn't talk much in either movie, more of a totem for Refn's distant, trippy sensibility. You'd hope that maybe they could reunite on Refn's upcoming horror film.
Ultimately, Lost River didn't win favor with the Cannes jury that Refn served with, winning no major prizes. Distributor Warner Bros. put up the $3 million budget for the movie but they might be looking to cut their losses, as Gosling has no doubt turned in a less-than-commercial film that has perplexed and flummoxed the majority of the Cannes movie-watching crew. But even though Refn's words sound a bit like a friend merely sticking up for his buddy's questionable art project ("There are images that still stick with me"), Refn's words still make a difference in eventually getting this weird-sounding film out to the public. In addition to Hendricks, Lost River also stars Matt Smith, Saoirse Ronan, Eva Mendes, Iain de Casestacker, Barbara Steele and Ben Mendelsohn, who Refn highlights in his comments about the film ("I could watch him read a phone book"). No release date has been set.
Your Daily Blend of Entertainment News